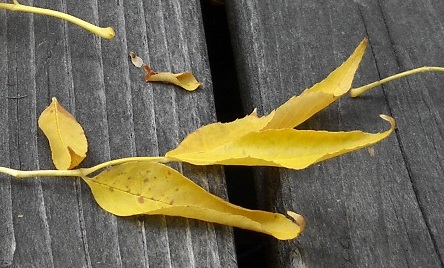 I ended up raking leaves today. The wind had done a good job, but there were still quite a few leaves in the back yard – probably has something to do with the fencing.
The sky was gray, and the air had that feeling like the clouds were getting ready to unload their piles of snow. It lent a certain urgency to the raking. I kept telling myself that a cup of coffee would taste that much better if I got one more chore crossed off the list.
__________
I remember after 9/11, I was cleaning my kitchen and thinking, "God, I'm so lucky, I get to clean my kitchen." It seemed that I shouldn't allow myself to complain about chores when so many would never be able to complain again. I felt like that while raking leaves today.
I'm lucky that I can rake.
I'm lucky that my kids are healthy and can help me rake.
We're blessed that we have a T.V. and that I can yell at them for watching so much T.V.
We are blessed that we have a home with a yard and trees that release their leaves and give us a reason to be outside on an almost-ready-to-snow, fall day.
__________
I'm not married to a Narcissist anymore.
I do the mowing, the raking, the cooking, the cleaning, the laundry, the tutoring, the car washing, the ….
The list is endless, but  I did all those chores when I was married.
Now I get to do chores with the sound of a pleasant voice in the background.
Now it is my voice.
My voice encourages me.
My voice tells me I'm doing a good enough job.
My voice says, "It's really not necessary to get every last leaf."
__________
I don't buy leaf bags. I can't bring myself to spend money on something that's meant to be thrown away.  Even if it might make the job easier, I can't do it.  If it means I make more trips, well then at least I'm burning more calories.
As I was dragging the trash can back to the leaf pile, I noticed the pile wasn't as big.  It loomed large when I was standing in the middle of the mess, but when I got away from the pile, I got a different perspective.  The job wasn't so big.
The mess wasn't insurmountable.
There must be a lesson in there somewhere.
When I'm standing in the thick of things, breathing hard, it's difficult to believe that I will actually get through it all.  When I walk away – even briefly – I can see the big picture.
I see that I am able to tackle the project.
There are a lot of "messes" that could be handled the same way.
Step back a bit.
Look at the mess from a new angle.
Take a breath.
Rake some leaves and be grateful.
Tags: divorce, gratitude, life, narcissism, narcissist behavior, narcissistic behavior, NPD, survive