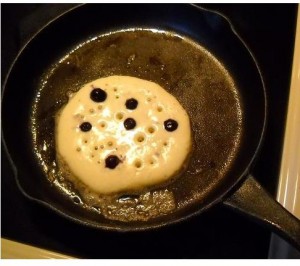 We eat a lot of pancakes around here, and I never make any of them.  I'm decent in the kitchen, but I've never been good at breakfast.  I do make great toast.  Will has been making pancakes since we moved to this house.  First, he started with Bisquick, then it was Krusteaz and then some kind of fancy, healthy buckwheat mix, and now he makes pancakes from scratch.
From the beginning, I figured that he couldn't do a lot of damage, so I didn't give him many tips, other than, "Don't burn yourself."  He likes the fact that he handles the whole project from start to finish.  I 'ooh' and 'ahh' a lot.  I talk about how the caramelization on this batch is perfect.  Mostly, I give him strokes, eat a couple pancakes, and clean up the mess.  Jenny doesn't like pancakes.  Every time he makes a batch, Will asks Jen if she'd like one.  She always politely declines.  I like that Will always offers.  I like that Jen politely declines.  He isn't bummed that she doesn't want any; she doesn't feel like she has to have one.
And because absolutely everything reminds me of relationships, I got to thinking about how Will's pursuit of the perfect pancake is a lot like the work involved in a healthy relationship.  I realize that, given my track record, I may know absolutely nothing about healthy relationships.  With my complete lack of credibility in the relationship department, you may want to scroll down to the bottom for Will's pancake recipe.
Bisquick makes a decent pancake.  It's quick and easy and it fills you up.  Krusteaz may have a little more flavor.  They are just as simple to make, so since they have more flavor, they seem like the logical choice.  The buckwheat mix is a little harder to find, but they don't require a lot more work, and they are healthier to eat.  Throughout the experimentation with these different pancake mixes, Will has learned the constants.  The batter shouldn't be too thin nor too thick.  The pan has to be hot.  Butter the pan a bit before pouring in the batter.  Wait until the bubbles start popping before you flip the cake.  All of these constants apply to each type of mix.
After mastering these pre-made pancake mixes, he was ready for the big leagues.  He asked if he could find a recipe and make some from scratch.  He'd already learned that the wet things are added to the combined dry things.  He just needed a listing of what those wet and dry things were.  He's been making scratch pancakes for over a year now.  We all marvel at how much better the from-scratch pancakes are.  They are more moist and tender.  They have this delicate sweetness and a nice crust.  There is an amazing difference, and we're only talking pancakes here.  The scratch cakes make you want to have more than one.
It's fun to see how much confidence he has developed in this pancake journey.  The other morning I saw him scooping up the batter with the whisk, to watch it fall back into the bowl.  He wasn't happy with the consistency.  Instead of asking me what to do, he grabbed the flour and whisked a little more into the batter.  He's learning from the process.  He knows what makes a good pancake.  But he recently asked me if I would buy another box of pancake mix, for those mornings when he doesn't feel like making them from scratch.  And I'm going to get a box.  I want him to make them from a mix so he can see for himself that they are so much better from scratch.  The extra bit of work makes the pancake so much better.
And so it is with relationships.  The more work you put into it, the better it will be.  After working at it, you gain confidence.  You won't always want to do what your partner wants.  And that's okay, just as they may not always like what you like.  But the more you practice, the better you get, and pretty soon, you might get to the point where you won't have to follow the directions anymore.  Sometimes you won't feel much like being in the relationship.  Other days you'll absolutely crave the sweetness of the partnership.  But in the end, there are no really good short cuts.  Jump in with both feet.  Make a big mess.  Slather on the butter.  You will probably get burned, but burns heal.  And most importantly, pick a partner who likes to do the dishes.
—
Will's Blueberry Pancakes
1 1/4 C flour
2 T sugar
1 t baking powder
1/2 t baking soda
1 egg
1 1/3 C buttermilk
1 T oil
some frozen blueberries – enough to sprinkle some in each cake
Whisk together the dry stuff.  Whip together the wet and add to the dry.  (I should really be having Will write this part.)  Heat a cast iron skillet on medium high heat until it feels quite hot when you hold your hand about a half inch above the skillet's base.  Butter the skillet and pour on some batter.  It will sizzle telling you the pan his hot enough.  Let it cook until most the bubbles pop and the edges start to look dry.  Don't get involved in a cartoon at this point, or you'll burn your pancake.  Flip the cake.  It doesn't take as long for the second side to cook.
Will likes his with real maple syrup.  I like mine with just butter.  I also like to eat a couple extra blueberries on the side.  Eat them before they've thawed all the way.  They taste like a rainy Seattle morning smells.  That really is a good smell.
—
I've been trying to find a good food blog to follow.  Can anyone recommend a food blog for regular people?  I'm looking for one that isn't pretentious, doesn't try too hard, has recipes with ingredients that can be found at the store, and is realistic in terms of time constraints and finicky eaters, but with enough interest for grown ups who don't want to dine on PBJ every night.
Tags: child of narcissist, humor, life, love, narcissistic behavior, NPD, proactive, survive