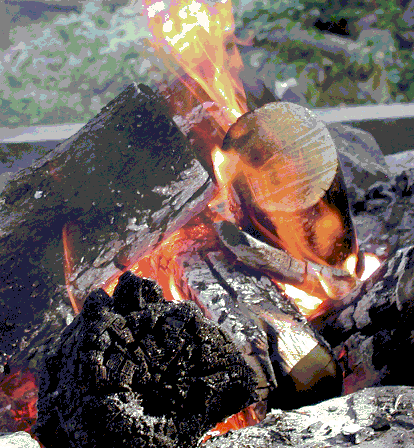 Will's genetic coding includes a large dose of pyrotechnics. He was interested in matches at an early age. Because I liked living with a roof over my head, I opted to teach him about matches when he first asked. I figure the more kids have their curious natures addressed, the more they'll learn, and the less potential problems we'll have. Better he learn about matches while I'm with him, than while he's sneaking around by himself in the garage, surrounded by gas cans and lighter fluid.
I'll go out on a limb and suggest that most boys are fascinated by fire.
To this day, Jenny has not lit a match.  I've asked if she might be interested.  I have suggested that she even light her birthday candles.
She and I are a lot alike, we like a cozy fire, we don't feel the need to light it.
I will admit that I have added fuel to fires – literally and figuratively.  When it comes to Mark, I don't try to light anything on purpose.  I don't call to rag on him.  I don't send him nasty emails.  I don't stop by his business to make a scene in front of his employees.  I want to avoid the chaos and the fire.
This afternoon, I was going to write a post detailing my, until now, effective way of dealing with Mark's attempt to change our parenting schedule.  I have avoided calling an attorney.  I have been polite.  We made sure we were in town so Mark could 'celebrate' the kids' birthdays.  We have arranged our schedules – when possible – to see him when he calls.
And then a car pulled up in front of our house, late this afternoon.   A stranger came to the door with a folder in her hand.  She asked if I was (insert my real name here).  I said, "Yes, I am."  She said, "I am serving you with court papers."
__________
I read the documents.  They are riddled with false accusations, misspellings, and incorrect chronology.  I guess that probably isn't surprising.  I'm sure lots of divorced folks falsely accuse each other of all kinds of things.
Doesn't it always boil down to he said/she said?
Oddly enough, I find I can't get worked up about these papers.  Shouldn't I be panicked?  Should I be scared?  Should I tap dance and accommodate and make nice?
__________
I think I'll let him feed the fire.
I'll back away from the smoke.
I'll call a lawyer.  I'll tell my lawyer everything.
And I'll stand by and see just who gets burned.
Tags: child of narcissist, divorce, marriage, narcissism, narcissist behavior, narcissistic behavior, NPD, survive