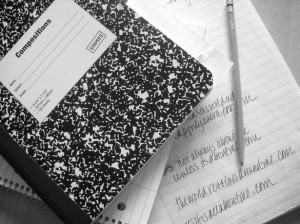 Last week I got a word salad in my inbox.  Whether in oral form or written form, I've taken to mentally and physically preparing myself before making my way through these salads.  If he's delivering the word salad to me in person, I usually prop myself up against a door frame.
History has taught me to settle in, because these can take awhile.
If the word salad is in written form, I usually make myself a fresh cup of coffee and find a comfortable chair.
Last week's sermon was about the difficulties he was experiencing trying to get the kids stuff for Easter.  Within the run-on sentences about, "I just don't know what they like…" and "They are growing up so fast…" I found a sentence that made my blood boil.
"… I understand that they aren't supposed to come over to my house."
Either he's being dramatic, he's totally forgotten that the kids don't want to go to his house, or he's recently picked up a recreational drug habit.
I sent back a short, emotion-free response saying, "The kids will email you their Easter Wish Lists.  Visits to your house have never been forbidden, however, sleepovers are still on hold."
Word salads make me dizzy.  Word salads make me question my memory or my ability to re-create conversations.  Word salads make me doubt my own grasp of reality.
Narcissists use word salads to cleverly manipulate their sources in an effort to swing reality back to their skewed view.
All this brings to mind something that I feel very strongly about.
I've said this before.
I'll say it again.
Write Stuff Down
Write on post-it notes.
Write in the margins of your favorite novel.
Write in a flowery diary or a composition book.  Write in a college rule notebook or on a blank sheet of printer paper.
Don't worry about anyone reading it.  If you don't want your kids or partner to see what you are writing, find a hiding place.
Don't worry about punctuation, typos or grammatical errors.
Write whatever comes into your head.  Don't mess with composition.  This writing is for you.
You can't open a magazine or watch a daytime TV talk show guru without being told to write in a journal.  This message is repeated time and again because it works.
The Power in Writing
Writing is an effective tool for collecting the jumble of feelings that keep me from being able to focus on what really matters.  Putting the angers, hurts and frustrations on paper allows me to feel as if those emotions are acknowledged, without letting them derail the rest of my day.
When the rest of the

world thinks I've gone mad

, tells me that Mark is the most interesting person they've ever met, and can't figure out what must be wrong with me, I have my notes to refer to.  My notes back me up.  My notes remind me that I am a good person.  My words are filled with the nasty behaviors that Mark doesn't let the rest of the world see.
When Mark dishes out another word salad that leaves me spinning and wondering just what was said or what we had decided, I can find the points in my notes that prove that we had agreed to specifics when it comes to the kids.
When I'm feeling particularly beat up, I can open my journal and find

words of encouragement

.  My journals are full of strength and vision and truth.  My journals contain the words that help me find my spine.
Writing in journals gives me a way to chart my progress.
My written words prove – to me – that I am good, and that I am not losing my mind.
Most days, that is enough.
Tags: divorce, narcissism, narcissist behavior, narcissistic behavior, NPD, proactive, survive