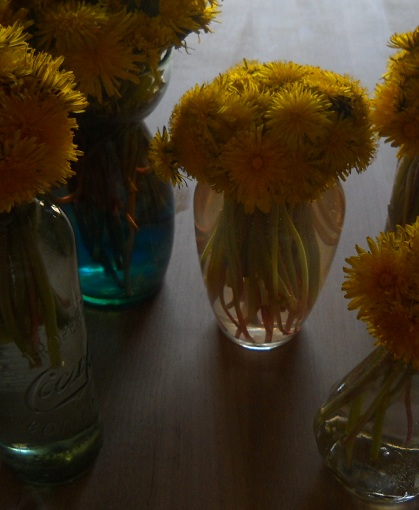 She'd just walked in the back door from checking on the neighbor's dog.  Time to start baking treats for the church banquet and making calls to beg for donations for the school fundraiser,  in between loads of laundry.  She had the T.V. on for background noise, even though she didn't have time to watch anything.
Her Aha Moment was delivered by the Power of Oprah, as so many Aha Moments are, these days.
She paused long enough to lean against the kitchen counter, a spatula in one hand, cell phone in the other.  She ignored the sound of the dryer buzzer while she let Oprah's message sink in.
She would be turning 50 soon, and she finally realized that she'd spent her entire life in a flurry of activity trying to please, make nice, and earn love, all because she never really felt love coming from her mom.
After taking the clothes out of the drying, and de-panning the rest of the chocolate chip cookies, she sent me an email.
_____
I finished the last line of her email, and walked into the living room with the kind of urgency usually reserved for kool-aid cleanups.
I asked the kids if I could interrupt.  They looked up for their clipboards and said, "What's up?"
"You both know how much I love you, right?"
To which they both answered in a variation of, "Yeah, um… I'll get to my room today.  Promise."  Or, "I know.  I know.  I'll get my skateboard out of the kitchen."
I said, "No.  This isn't that kind of I love you.  You know I love you, but do you know that I like you?"
Jenny said, "What's the diff?"
"You know how sometimes people love someone because they are supposed to.  Like me, I love my dad because I'm supposed to, but there are a lot of times when I don't really like what he does.  Do you know what I mean?"
They both nodded their heads and said, "Yeah?"
"Well, I want you guys to know that not only do I love you but I like you.  I like you in a can't-wait-t0-tell-you-something-funny way; in a can't-wait-to-see-what-you-come-up-with-next way.  I like lots of time to simply hang with you.  I like your senses of humor.  I like what you are interested in and what makes you tick.  I like your kind hearts, your sensitivity and your wise-old-soul outlook on the world.
I'm telling you this because we are going to hit a spell when I'm not going to be your favorite person.  When we are in that spell, I want you to remember that I really like you and love you."
Then Will said, "Is something wrong?"
I said, "No.  I just need to burn that into your brains.  That's all.  I'm done."
_____
Then I emailed her back and said something like, "I kind of know how you feel.  I have to believe that we all do our best.  I think your mom did her best, too, but she was handicapped in the  showing-kids-love department.  The dearest friends in the world can't fill that hole."
I told her that a couple years ago I was feeling pretty blue about not feeling loved.  I read something (Aha Moment) that made sense.  I found that unloved little girl inside me, gave her a ginormous hug and told her I loved her best of all.
I asked if she could do the same for herself.
Then I got in the car and drove to meet my dad for his birthday lunch.  I felt that familiar tightness and nervousness in my stomach.  I wondered, briefly, if I'd put on antiperspirant.  Yeah, I had, but there isn't an extra-strength, turbo variety of deodorant made for these kinds of things.
I walked into the restaurant and looked around for a familiar face.  I was relieved that it was relatively dark inside – no one could see my pit stains.
The lunch actually went quite smoothly.  Talk was pleasant and superficial.  Perhaps I've grown up a little and found a way to not get my feelings hurt by his "lighthearted" sarcastic comments.
As I got up to leave, I said, "Hey, Dad, this was nice.  We should do this again."
He laughed and said, "Yeah.  When should we get together again."
I smiled and said, "How about my birthday?"
He said, "Yeah.  So when is your birthday?"
I said, "In eight days.  Remember, Dad?  It's one of the two best days of your life?"
Tags: child of narcissist, life, love, NPD, Parenting, survive