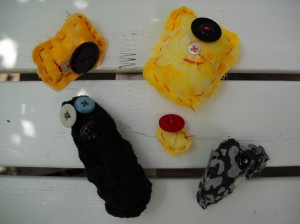 Jenny made these guys with scraps of fabric, old buttons and polyfill.  She stitches little grins on their faces.  Some have one eye, others have two.  When I asked Jenny what she calls them, she said, "They are Nice Boogie Monsters."
She made one for me, one for Will and one for our cat, plus some extras, just in case.
They live in a ceramic bowl in the center of the purple dining room table.  The wait patiently, some times all day, for one of us to walk by and stop to pick one up and squeeze it.  I can't seem to walk by that bowl without smiling.
__________
I know absolutely nothing about aromatherapy, but I do know the sense of smell is a powerful one.  I could Google which scents are recommended for altering which moods and find the perfect combination of essential oils to elevate sad moods, and bring relaxation or a sense of calm into our home. Instead, I looked at the ingredients and combinations and just picked based on what I thought sounded good.
I found three different oils in varying combinations of Bergamot, Lavender, Chamomile, Patchouli, Jasmine, Marjoram, and other magical sounding scents.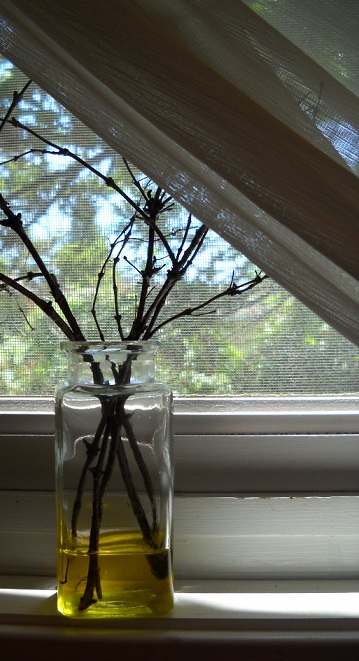 I put a couple drops in a clear glass bottle with some lemon scented olive oil, and added a few twigs from the lilac in the back yard.  This homemade diffuser sits on the wood stove in the corner of the living room.  When we walk in the front door, we smell a wave of Sandalwood, Jasmine, Patchouli and Lavender.  These scents seem to flow together suggesting we leave crabbiness on the front step, as we walk in.
I put a drop of a combination of Geranium, Chamomile and Marjoram on the sheers in my bathroom.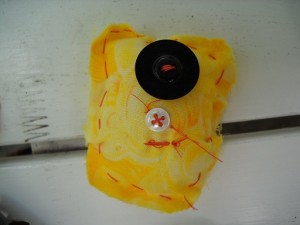 This is the little guy that Jenny made for me.  He sits by my computer, grinning his sly grin, reminding me to not take things too seriously.  He smells quite good for a Boogie Monster.  I put a drop of essential oil on his backside.  Between his grin, his squishy yellow body and the scent of Patchouli and Bergamot, I have a new defense against funks and bad moods.