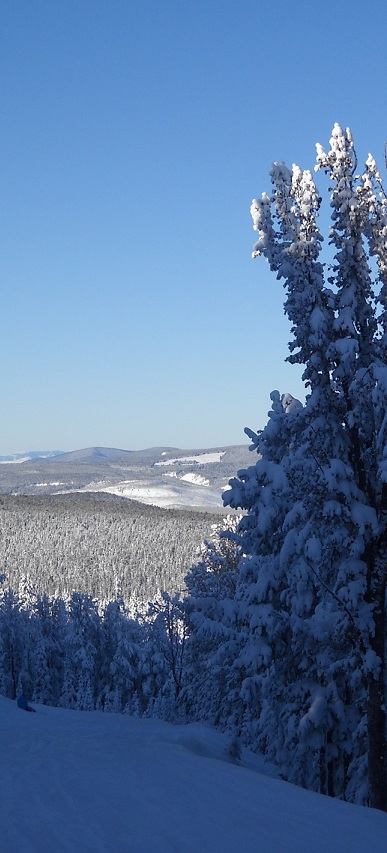 I stop at the top of the hill and yell for them to keep going.  I want to watch them.
I plant my poles, snug my hat down a bit and wrap my arms around myself to block the chill.
The temperature hovers at 10 degrees.  It's beautiful windless cold – the crisp blue of a winter sky when the light makes edges sharp.
I take a mitten off to wipe my nose.
I quick jam my hand back in the mitten and tuck thumbs into the finger sides to soak up the warmth generated by many.  Thumbs have it tough.  They can't generate enough heat all by their lonesome.  They need company to have any shot at getting warm.
I watch Will's wide arcing turns as he powers through the powder.  He rides low on the hill.  His whole body makes the turn.  I'm afraid his shoulder will come in contact with the snow and soon I will see him cartwheeling to a stop.  He gets close enough to the edge of disaster before the strength in his legs sends him turning in the other direction.
When did he get so strong?
Not far behind, Jenny gracefully executes short zigs and zags in a straight line down the hill with her arms stretched out at her sides, as if to embrace the sky.  Her skiing is more like dancing.  She's not attacking the hill like her brother does in his full-on, testosterone-laden assault.  She skims the snow in a way that makes me think she might take flight if she had enough fairy dust in her jacket pocket.
When did she get so graceful?
I can't believe those two skiers used to be my babies.
I can't believe I used to carry them everywhere.
I yank off a mitten to wipe my nose again and wonder how a mom manages to go skiing with her kids and forgets to pack Kleenexes.
And then I hear it.
A whisper.
A whisper comes from the trees.
I look to my left and see snowflakes – or is it diamond dust – floating in the air above branches.  The flakes are stirred by the breath of the whisper.
The whisper says, "Remember this."
"This is one of those days that you will look back on with fondness.
This moment will be held up against a bad moment to create the balance of a good life.
Forget about whether you can keep up or whether you hold them back.  Quit wondering if they'll decide it isn't cool to ski with you anymore.
Savor this moment.
Create a frame in your mind for this picture.

Now catch up to them, and when you get there, give 'em your biggest smile.  Laugh out loud and tell 'em how fun they are.
Go.
Go, and don't forget this day."