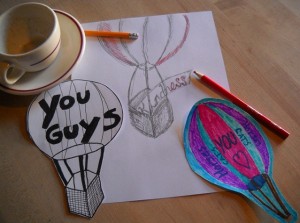 He said, "Mom, why do you think I'm outta sorts today?"
I said, "Maybe you're wishing we had snow. Maybe this is the pre-dad visit funk. Maybe you need to eat something. Or, maybe it's just one of those days."
And because the hot water of the shower has a way of warming my skull and opening my brain to the current of ideas that passes in and around this house, I came out of the bathroom with an inspired thought.
Imaginary Hot Air Balloons
I saw fine gold cord tied to hot air balloons. Each balloon carried an idea, personality trait or thing. The cords were also tied to our belts – think comfortable steampunk, if there be such a thing. A leather pouch containing an ornate pair of silver scissors was attached to the belt with a grommet.
We had complete authority to snip and tie to our belts whatever balloons we chose.
Some balloons tugged at their gold ropes in an effort to sail off to the horizon.
Some balloons never left the ground.
Tying an assortment of balloons to our belt could lift us up off the ground and take us in a new direction.
Tying a different combination to our belt might leave us right where we were – in a funk, if that's where we happened to be.
We held our scissors at the ready and walked around peeking inside each basket.
Will snipped the golden cords from baskets containing the words:
bad dreams
no plans
brussels sprouts
He tightly tied the cords to the baskets containing the words:
you guys
skiing,
skateboarding
Mexican Salad
Jenny took her scissors to the baskets containing:
baby voice
mean people
broccoli
She quickly tied the cords associated with:
horses
cats
"tiny eensy weensy things"
I couldn't cut the cord to gossip fast enough, all the while hating that it was ever tied to my belt to begin with.  I hacked at jealousy and sliced through resentment. 
I stepped up to the basket containing the word forgiveness and tied it to my belt with a big loopy, double-knotted bow.
Next was kindness, followed by compassion, gratitude and patience.
I spied a basket containing coffee, red wine, wasabi almonds and fuzzy socks.  This basket was tailor-made for me.  I attached it to my belt with duct tape.
I created a basket for Will with the words curiosity,  tenacity and tenderness.  He already possesses those characteristics, but I want to make sure he doesn't lose them.  I tied this basket to the back of his belt so that, in another few years, he doesn't accidentally snip the cord in a rush to follow the basket with the cute girl inside.
I handpicked the words independent, wise and creative for Jen's basket and tied it to the back of her belt.  That way she can't hastily snip the cord when someone comes along and teases her for being her own unique self and not following the pack.
We all tied on to another basket containing chocolate milk, barbecue sauce, good books and Nina.
I made sure we were all tied to the baskets full of love and laughter.
We held hands, and I said, "Hang on!"
We felt a rush of warm air as our feet lifted off the ground.   Nina was oblivious to the take-off.  She curled up in the bottom of her basket and napped during the ride.
We're heading off to a new place – even if it's only in our minds.
Tags: a girl can dream, gratitude, in search of self, life, love, Parenting