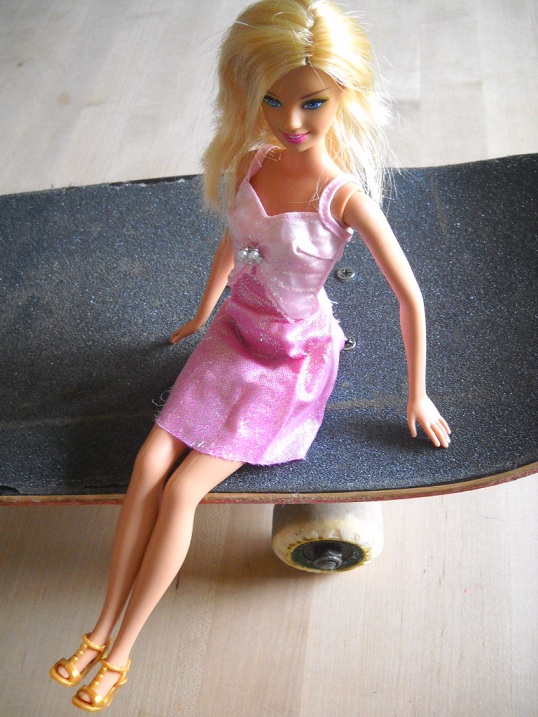 Jenny fixes a too gaudy Barbie dress by altering it.  She cuts off the flouncy sleeves and shortens the train.  She might use tape or thread or buttons, but she knows she can fix it.  She'll even fix Barbie's hair with snips here and there.
When the wheels don't spin fast enough on his skateboard, Will can fix that problem by cleaning the bearings.
I can fix a too-thin sauce in a batch of  Chicken and Broccoli Fettuccine by letting the sauce soak into the pasta a bit before serving.
I fix the toilet when it makes that whistling sound.  Will fixes the squeaky hinge on the art supply cupboard.  Jen fixes a meal of flowers and herbs for her imaginary pony.
Fixing is what we do.  Fixing is in our blood.
__________
When the dad visits start going downhill – again – our first instinct is to fix that, too.
I say, "I'll send him an email and tell him how he hurt your feelings."
Will says, "I'll send a text and tell him we want to do visits at our house."
Jen says, "It would fix everything if we didn't have to go over there any more."
Then I get the grand idea to call Mark.  When he answers I say, "Listen, Jenny is crying after tonight's visit.  What can we do differently to make her more comfortable."
He serves up another word salad, and I say, "Nevermind. "
I hang up and look at the kids.  Will shakes his head.  Jenny grabs another Kleenex.
Again, we have forgotten that this can't be fixed.  Again we have tried and failed.
We say a couple choice words.  Take a deep breath and remind each other to let it out, and when Will doesn't exhale and his face turns red, we start laughing.
We settle into another chat about how we can only change ourselves.  We comment about how we've been down this road so many times that we've memorized the terrain and we could walk blind-folded.
We can fix our stuff.
We can't fix dad.  We can't fix the visits.
We will remember that there are some things we can fix, and others we can't.
__________
When I replay that evening's frustrations, I see – with clarity – what it is I am supposed to do in these situations.
There is only one thing I can do, but I will do it well.
I will tie a bandana across my mouth to keep from saying what I know I can't do.
I will sit on my hands to prevent useless emailing, texting or phone calls.
When the kids walk in the door after a visit, I will let them be.  They will spew.  They may cry.  They might stomp around and suggest they are never going there again.
I will let them say what they need to say.
I will listen.
I will be calm and quiet and safe.
When they flop down on the couch in deep sighs, with nothing left to say, I will take off the bandana.
I will get up off my hands and hug them.
I will tell them I love them.
Then, I will announce that I am going to make a cup of Earl Grey and search for something that I can fix.
Tags: child of narcissist, cuz I am Woman, in search of self, love, narcissism, narcissist behavior, narcissistic behavior, NPD, Parenting