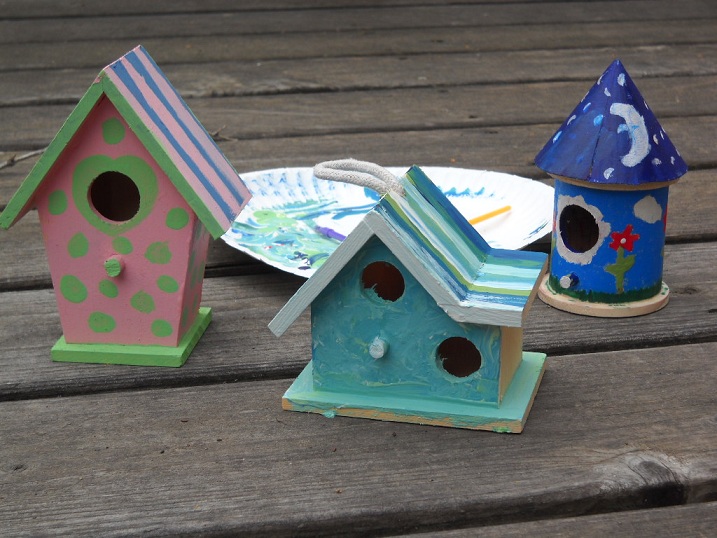 We'd gone in search of lavender fleece.  We came home with jewelry making supplies, three unpainted birdhouses in need of jazz, and half a yard of turquoise fleece for, "You know, mom….  more projects."
The idea was that each of us would paint a birdhouse.
Will and Jen are coming out of that blissful phase of thinking everything they do is fantastic.  They are starting to compare their creations to others.  But for right now they still relish the act of creating.  That means they get out the paints, sit down on the floor and go to it.
Without a plan.
Without first sketching, erasing, sketching again or starting over.
They mix colors and splash paint and laugh as they go.
And when they are done they say, "Well it's not the best birdhouse in the world, but I bet there's at least one bird that'll like it."
I look at their houses and say, "Crap.  I can't paint a birdhouse as lovely as yours.  I don't even know where to start.  What color should I paint?  Should I draw something on the house first?"
And they laugh at me and say, "Just grab a paintbrush mom.  It's not a contest."
__________
Later, while I'm cooking dinner, Jenny strolls through the kitchen with a paintbrush in her hand.  She eyes my unpainted birdhouse and says, "Boy, I'd love to have something else to paint."
*hint, hint*
I say, "Would you please paint my birdhouse.  That'd make my life so much easier.  Then I won't have to fret about whether my birdhouse is cute or not."
Jenny says, "I'd love to paint yours, but what about you?  Don't you want to paint it?  And what about Will?  Is that fair if I get to paint two houses and he only gets to paint one?"
"You're right, honey.  Of course.  I don't care if I don't get to paint one, but that isn't fair if Will wants to paint another.  They're only a dollar.  I'll get Will another and we'll have a bunch of sparkly, magical, happy birdhouses for the backyard."
I try to make things fair when I can.
The Universe has taught me that there are plenty of times when life isn't fair and I can do absolutely nothing about that.
___________
All this got me thinking about how kids always want things to be fair.  Treats must be cut exactly in half.  Kool Aid must be poured to the same line in each glass.  Each kid must get the same number of kisses and hugs.  They have to take turns getting tucked in first because, "That's fair."
They spend an inordinate amount of time being told to play fair and treat others fairly.
At the same time, they are preoccupied with making sure that they get their fair share.
If they are lucky – their parents try their best to make things fair, while gently pointing out that life isn't always fair.  Sometimes you don't get the same number of pieces of pepperoni pizza, but – thankfully – there may be more pizzas in your life.  You don't always get to go first or play the longest or have the coolest toys or the best vacations or the funnest parents.
But if you are really lucky, you learn that it's okay.
It doesn't always have to be fair.
There's plenty that's still good in a life that isn't always fair.
__________
And because Will reads Calvin and Hobbes every night, I had to include this quote:
I know that the world isn't fair,
but why isn't it ever unfair in my favor?
Bill Watterson
Tags: child of narcissist, cuz I am Woman, gratitude, life, Parenting