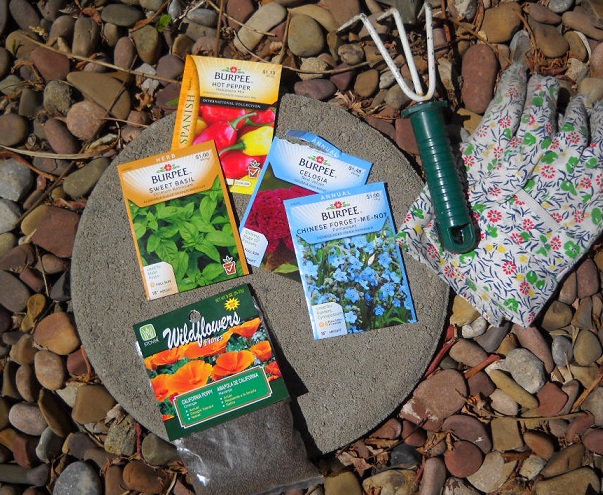 "Mom, didn't you say you were going to take us to a play about Camelot?"
I'd lost the note I'd written.  At the beginning of April,  I'd discovered a college production of a funny version of King Arthur and Camelot.   I'd forgotten to buy tickets and the date was fast approaching.  "Will, I'm glad you reminded me.  I'll get online and find out where to get tickets after we get back from the hardware store."
__________
We'd gone to Home Depot under the guise of exploring options for a homeowner repair.  We came home with a pile of seed packets instead.
They each got to select a couple different packets for their corner of the garden.  Jenny selected celosia, forget-me-nots and celery.  She doesn't actually like celery but her imaginary friend does.  Will selected a packet of habanero seeds and sweet onions.  I picked basil, California Poppies, hollyhocks, and nasturtiums.  I'm sure there were more in there.
When we got to the car I was still gasping at the receipt.  "How did we manage to spend $22 on seed packets?!  Who spends that much on random packets of seeds that may or may not even grow?  How is it that I scour pawn shops for golf clubs and second hand clothing stores for jeans and golf shoes, yet I throw away $22 on seeds?"
Jenny said, "Mom, call it school."
Will said, "Mom, call it food."
I said, "Ah, yeah…  habaneros and basil?  Food?  That's a bit of a stretch, even for us."
By the time we'd gotten home, I'd given myself a thorough tongue-lashing.  When I sat down in front of the laptop to search for tickets for the play, I was still mumbling to myself about how I shouldn't have spent so much on seeds when I told the kids I was taking them to a play, and now I have to shell out even more money for tickets.
I Googled the name of the play and the first hit to pop up was a site explaining that the play started that very night.  We had originally talked about going on Friday night, but tonight there was a showing for free admission with a donation of food for the local food bank.  When I had first checked on ticket prices, there wasn't any mention of the first night showing with free admission.
"You guys!  You guys!  We could go to the play tonight and save the cost of tickets by bringing cans of food with us.  But you won't believe this….  If we go on Friday night, the tickets would total $22!"
Will said, "Hey, isn't that we spent on the seeds today?"
Jen said, "Isn't it weird that they are the same amount?"
I said, "Maybe it's not that weird."
Jen said, "So we get to go to the play for free?"
I said, "Well, it's not exactly free, honey, because we are bringing cans of food."
Just then, I looked at the laptop screen to see notification that I'd sold another book, giving us essentially enough to cover the costs of the cans of food.
Tags: a girl can dream, cuz I am Woman, gratitude, humor, life, Parenting, proactive, school, survive