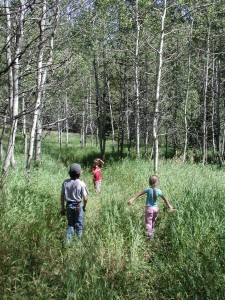 Take:
1 large grassy field
1/2 dozen children
2 or 3 small dogs
1 pinch of brook and some pebbles
Mix children and dogs well together.  Put them in the field, stirring constantly.
Pour this brook over pebbles; sprinkle with flowers.
Spread over all a deep blue sky and bake in hot sunshine.
When brown, remove and set away to cool in bathtub.

*Discovered in Rare Recipes and Budget Savers, a compilation of columns from The Wichita Eagle's Home Town News.  
Published in 1961.
Contributed by B. M. Pittenger.