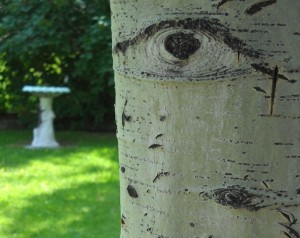 It was her job to load the splitter, catch the split logs and pass them to the stacker.  They developed a rhythm as they worked, stopping only to drink water or wipe sweaty brows.  They enjoyed a sense of accomplishment, congratulating each other as the stack grew.  The hard work earned them the beers they would enjoy on the deck that afternoon.
Logs with knots were tricky for the splitter.  She'd learned that when a log doesn't split all the way because of a knot, she could lift the log over her head and slam it down on the ground with all her might.  The force would split the log in two.
Sometimes.
That trick didn't always work.
Some logs were tougher than others.
Some knots were stronger than others.
And so when she came upon a log that would not split, she met the challenge head on.  The third time she'd hefted the log over her head, she screamed, "Break, damn you!"  The others chuckled and cheered when the log finally shattered in two.
As she bent to pick up the two halves, she realized how those knots were like the lessons she'd learned over the years.
The lessons made her tough.
The lessons made her strong.
Like the knots in a tree, the lessons gave her character.
Tags: cuz I am Woman, gratitude, in search of self, life, survive