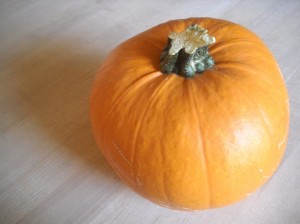 It's highly unlikely that you'd get your favorite narcissist to spend an afternoon carving pumpkins with you.  They have much more important things to do.
But… if you find yourself on a day when the stars have aligned, the weather isn't nice enough to do anything else, and you've sourced/doted on/adored your narcissist enough, he may acquiesce.
If he agrees, be prepared to hear some of the following:
"Hey, let's keep the mess on the table.  Try to keep all the goo on the paper so it doesn't get all over the house."
"We don't need those pattern thingys. Can't you borrow some pumpkin carving tools from your mom?  I don't want to have to spend any more than I have to on this project.  Besides, I can draw better than the folks that make those patterns."
"Did you really just get pumpkin slime on your t-shirt?"
"Don't draw the eyes so close together, that's not what pumpkins look like."
"We'll keep these pumpkins at my house.  You guys get your own."
"Make the mouth bigger.  You won't be able to see it from the street."
"No, that's not how to do the eyes.  Here, let me show you."
"Hey, watch it!  You got some on the floor."
"Push up your sleeves.  You're getting it all over everything."
"You guys aren't listening to me."
At this point, the narcissist sighs deeply, asks you to hand him your tools and says, "Hey, I have an idea.  Why don't you two go watch a show and I'll finish the pumpkins.  That way they'll be done right."
On second thought, don't ask your favorite narcissist if he wants to carve pumpkins with you.
Tags: child of narcissist, divorce, humor, narcissism, narcissist behavior, narcissistic behavior, NPD, Parenting