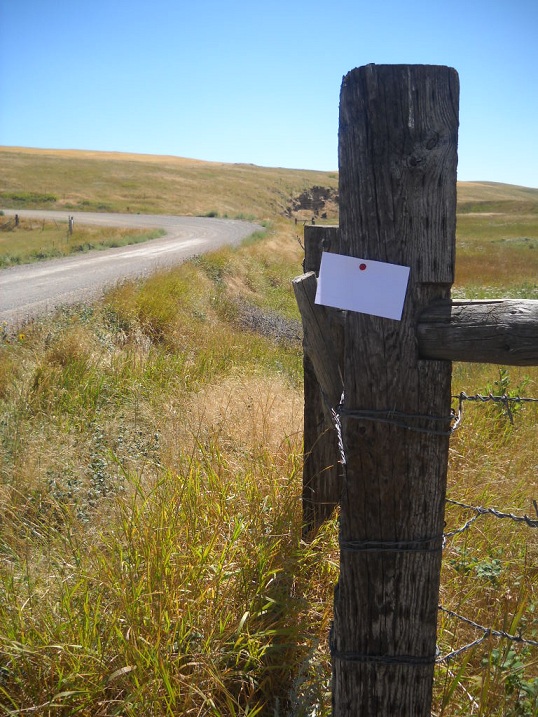 A few more boxes to pack and load into the car and she'd be done.
She thumbed through magazine clippings that had been filed in an office drawer.   Some clippings dated back to her college years – that dreamy phase of, "When I grow up and marry, I hope my kitchen has ….."
There were clippings of herb gardens, bathroom paint colors in sage and mint, examples of open shelves instead of upper cabinets for the ideal kitchen, and nursery ideas.
__________
Her girlfriends thought she was crazy for not wanting upper kitchen cabinets.  She loved how open shelving prevented her from collecting junk.
He thought she was nuts for wanting to paint the walls behind the shelves an Indian Red.   Now she stared at the kitchen and realized it might be the only room in his house that she might miss.
She considered taking cuttings from the herb garden she'd spent so many hours tending, but those would be from his garden.  She'd just as soon start over.  She wouldn't take the echinacea, the clematis or any of the Engleman Ivy either.
Better to start fresh.
As she emptied the folders into the trash, she looked around his house.  She'd  never noticed how her decorating so closely resembled the clippings she'd collected over the years.   Could it be that simply cutting out a magazine photo of a desired bedroom arrangement was enough to manifest that same bedroom?
She hadn't shown him any of the clippings, for fear he'd shoot down her ideas.   And yet, so much of what she'd created in his home was represented in the file of clippings.
__________
 One last box to pack and tape, and she'd be finished – some framed pictures, a couple board books that the kids had outgrown, but that she couldn't part with, and a few more file folders.
The last folder held the quotes and words that had given her the courage to leave.  She spread the scraps and pieces of notebook paper on the butcher block, in the center of his kitchen.
These were the words that she had repeated over and over to herself.  These words convinced her that she wasn't crazy.  These words told her that she was good enough – that she was whole.
The quotes were the building blocks of her new backbone.
In the night, when sleep wouldn't come, she'd turn to her bedside and find the words.  The words offered comfort when she was frightened, encouragement when she didn't know how to continue, and hope when there was none.
She put the last box in the back of her car.  She looked around his yard – at the flower beds that had provided hours of therapy, and the deck where she sat, rocking her newborns.  She looked at the house that never felt like a home.  She new she wouldn't miss it.
She pulled out of his driveway knowing it was the words in that folder that had gotten her out.
I've compiled an ebook of the quotes and words that paved my way.  Words Got Her Home comes out this month.
Tags: a girl can dream, cuz I am Woman, divorce, encouragement, in search of self, proactive, the power in writing