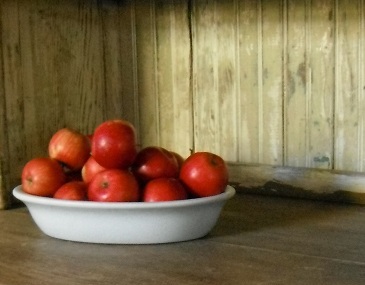 Apple crisp with more crunchy topping than apples?
How about an apple pie with vanilla ice cream?
Maybe a pot of boiled, spiced apples – a chunky apple sauce – to serve with pork loin?
Or diced apples and cinnamon in oatmeal on a rainy fall morning?
I know!  What about an apple cobbler drowned in heavy cream?
Or I could leave the apples in the bowl for a homeschool drawing/painting class.
Will came home with a grocery bag full of apples from the neighbor's tree – an autumn harvest as partial payment for his weekly lawn care job.
Now we have to (get to) decide what to do with them.
Maybe we'll eat them, one-by-one, just as they are.
If only all of life's issues were this difficult.