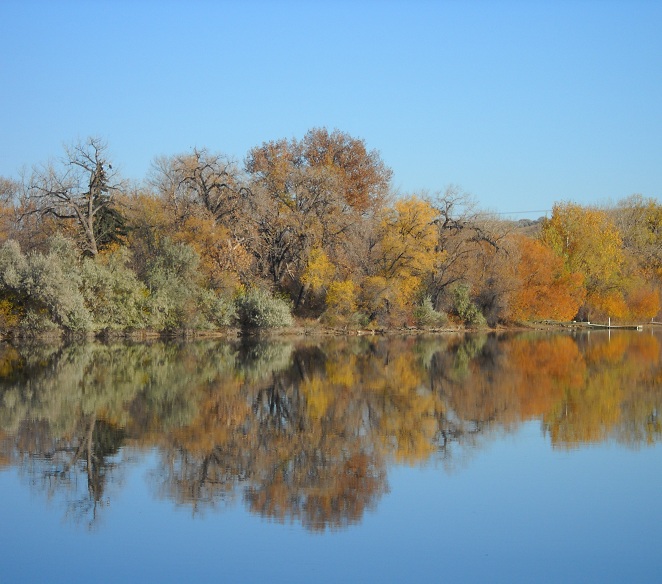 Her head hit the pillow and all she could think was, "Can I get a Do-Over?"
At 2:30 that afternoon, she'd considered the possibility that it might be best to go to bed and put an end to this day.  She could pretend she had flu symptoms, make a cup of tea, put on her pajamas and bring this crappy day to a close.
But, of course, she didn't.  She proceeded to touch more things that turned to shit.  She made bigger messes while trying to mop up other messes.
While running errands, she'd noticed the gorgeous fall leaves reflecting in the still blue river.  Blue and orange were complementary colors for a reason.  At least she couldn't ruin that.
She yelled and apologized for yelling.
She vented and apologized for venting.
She tried and failed.
She turned to make a new attempt and tripped.
By 5:30, she faced the prospect of cooking dinner.  Earlier in the day, before things had gotten ugly, she'd mentioned something about pizza, but if she were to create something in this mood, she'd risk poisoning her kids.  She apologized again and said, "Sorry about promising pizza."  She opened the fridge to discover that an assortment of leftovers would save her kids from certain death.   "Tonight it's going to be buttery noodles, ham and bean soup, macaroni and cheese (if it's not too gloppy) and pbjs.  A little of each or none of each.  I don't care.  You guys pick.  Oh, and we'll have apple pie.  That should make it better."
She looked at him and said, "After dinner, you need to finish your reading.  I'll clean the kitchen, but it may take me the rest of the night, at this rate.  Then I'm gonna hold down that chair until it's time for bed.  If anyone needs anything from me, I apologize in advance for disappointing you, but it's not gonna happen."
He said, "It's okay.  Some days are like that."
She said, "Tomorrow will be better."
With her head finally cradled in the pillow, she wished for a Do-Over and promised to show more grace – to step more quietly.  She'd remember to breathe and go a little slower.  She'd make a point to fit something into the day that wasn't on the list of chores.  Maybe she'd find time to take a photo of those leaves reflecting in the river.
She turned out the light and whispered, "Tomorrow is my Do-Over."
Tags: a girl can dream, cuz I am Woman, front lines, gratitude, humor, in search of self, life, Parenting, survive