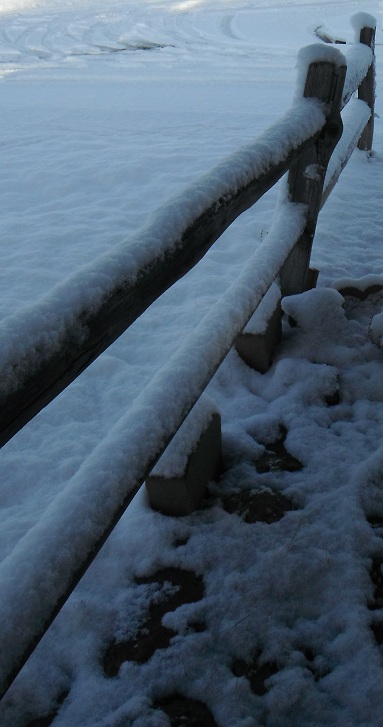 A child's world is full of boundaries – boundaries designed to keep her out of harm's way and help her get along in society.
"Stay on this side of the fence."
"Don't go beyond the hill."
"Don't play in the street."
"Keep your hands to yourself."
"Remember to share and be nice."
Depending on the delivery, boundaries can do an excellent job of snuffing out a kid's spirit.
"No one wants to play with you when you won't share."
"You have to be a nice boy, so you will have more friends."
"Don't be loud or rambunctious or hyper, it makes you difficult to be around."
"Sit still."
"Stop talking."
"Get out of the way."
"Don't make a mess."
Not all boundaries are healthy.
From an early age, we learn to navigate our world within boundaries.  We learn how to stay out of trouble.  We learn what we have to do to be liked.
An attention-starved kid quickly learns to breach boundaries, often getting in trouble, so he can get some much-needed attention – even if that attention is negative.
As adults, most of us continue to operate with a lot of the same boundaries.  We don't play in the street.  We sit still in church.  We try to remember not to talk with our mouths full.
Because we are old enough to see over the hill, beyond the fence, or on the other side of the cubicle,  we can set new boundaries.  We interact just enough with a co-worker to facilitate a working relationship, but draw the line at beers after work.  We make time to listen to a relative's drama, but we make a conscious choice not to jump into the fray.
Boundaries can be set firmly, but with compassion.  We don't send out the snarky email stating the height of our fences.  We don't approach the relative with our hands up saying, "No more!  I can't listen to your drama."
Setting boundaries keeps us healthy.
It doesn't occur to a kid that he can set his own boundaries.  If they are even aware of boundaries, they assume that adults are in charge of setting them.
"Aren't we 'sposed to be friends with everyone, mom?"
"Well, do you wanna be friends with a kid that knocks your books out of your hands and pulls your braids?  Does it feel good to be around that kid?"
"But if I don't play with her, she won't like me."
"There are other kids that like you – kids that feel good to hang out with.  It's okay if there's a kid out there that doesn't like you.  And it's okay for you to not like every kid."
"Mom, what can I do if an adult is mean or scary?"
"Sometimes adults can be mean – kinda like that dog across the street.  The neighbors in the brown house put up a fence to keep their next door neighbor's dog out of their yard.  The neighbors still get along, but now the brown house doesn't have to deal with the tan house's dog all the time.  It's a happy solution for everyone.  You can put up a secret imaginary fence between yourself and that mean kid or the scary teacher's aide on the playground.  Don't even tell them that you've built a fence.  You don't have to loudly announce your fence.  When they approach, walk away.  Pretend that you are distracted – 'Hey, look at that butterfly,' or 'I'll get the ball,' or 'I left my jacket inside.'  Don't react to what they say as you walk away.  Picture them standing on the other side of your very tall imaginary fence.
Pay attention to how you feel.  If it doesn't feel good to be around a kid or an adult, think about your fence."
"Hey, mom!  If we put up a fence, could we get a dog?"
"I love you."
"That means, 'No,' right?"
"This time it does."
Tags: child of narcissist, friendship, gentle reminders, Parenting, thriving