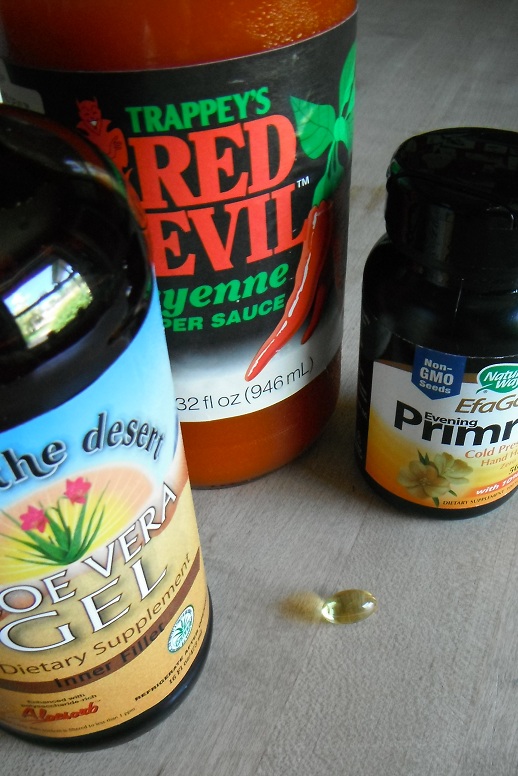 It seems I've entered my Nanny McPhee Period when grey hairs corkscrew from the top of my head and adult onset acne gets comfortable and refuses to leave.  I know this isn't a beauty blog, but I've discovered a couple products that have made this phase slightly less Nanny McPhee-like, and it wouldn't be right not to share.
I haven't the bravery to Google – "How Long Will I Keep Getting Periods" – because if there's a woman out there who is still getting periods well into her senior years, I don't want to know about her.  I don't want to know that I could be that empty-nest woman, in her 60s (because I will be close to 60 by the time Jen leaves, if she decides to do so), traveling to Italy, sipping red wine at a lovely cafe and having to excuse herself from the intelligent conversation at the quaint bistro table for two because she's having a "period" emergency.
I can handle many things, but I'm not sure I want to know how long I'll have to deal with periods.  No, I won't be doing hormone replacement therapy.  I'm the anti-chemical, left-over hippy, who doesn't put anything on her lawn, doesn't own a microwave, and has never colored her hair.  I will not be taking some sort of chemical supplement to help me through this phase, even if that would keep my kids from wanting to kill me or move into their dad's house once a month.  (Come to think of it, my mood swings are sure to bring about that empty nest.)
Primrose Oil has kept my kids from packing their bags.  I don't know why it works.  I don't care.  It keeps me from wanting to slash the neighbor's tires when he leaves his car running while he's in his house obviously looking for his car keys.  Primrose oil keeps me from hiding under the covers until my period passes.  I love this stuff.  If I'm telling you about it, that means it works.
A dear friend kindly suggested that I try aloe vera for my complexion issues.  After five days of applying aloe in the morning and at night, I finally felt that it was safe to go out in public.  Seriously.  It's not quite a miracle, but it's damn close.
Speaking of avoiding chemicals, we've had a bit of a war going on with ants in the yard.  We've tried cornmeal, diatomaceous earth, cayenne powder, and pleading.  Nothing has worked.  Apparently, if you are the only family in the neighborhood that doesn't use chemicals on their yard, all the critters within a five-block radius view your grass as a safe haven.  They move directly to your lawn and find it quite pleasant to stay.  Forever.  A couple springs ago when Jen, Will and I were visiting the grandparents in Arizona, Will fell in love with Trappey's Red Devil Cayenne Pepper Sauce.  We hadn't discovered anything quite like it in Montana, so he talked me into buying six bottles – six BIG bottles – and bringing them home.  We've managed to use the top one inch of the first bottle.  We have a lot of Trappey's Red Devil Sauce in the house, and now the ants have a lot in their houses, too.  I think it's working, but I did mention how much they like our chemical-free yard.
__________
I've been asked if we will continue homeschooling into the high school years.  At the end of each "school" year, I ask Jen and Will if they want to revisit our decision to homeschool.  They look at me the same way folks look at me when I tell them that we are continuing homeschool through high school.  Even though Jen and Will have great friendships with kids in the public school system, they have absolutely NO desire to return.  No we aren't crazy for homeschooling into high school.  We are crazy in lots of ways, but not when it comes to this decision.  We invent our methods as we go.  No regrets and no turning back.
__________
I want to tell you about what I've observed since Will has gotten his driver's license – other than additional grey hairs and nervous hand-wringing.  Mark (their narcissistic father, for those who are new here) has lost any leverage that he had with Will.  Now that Will can drive himself to the fishing hole, the sporting goods store, the golf course, and the ski hill, there is no need to have to put up with his father's crap.
I saw how the dynamic in Will's relationship with his dad changed as Will became more independent, but driving has created a very large divide between those two.  Will is busy.  He is going all the time.  He does not share all the same interests as his dad, therefore, he's quite happy to take the car and go off to do his own thing.  And because his dad will only pursue the activities that he enjoys, there will be less contact with Will.
Jenny couldn't be happier.  Dad visits were always with both kids.  If Will is busy, there isn't going to be a visit.  Jenny is completely off the hook now.
I'm not sure what that means for this blog.  Clearly, with what my last two posts were about, we're still dealing with narcissism fallout, but I sense there will be less and less.
HA!
Who am I kidding?!
__________
Wherever you are and whatever the weather is bringing, I hope you find yourself thriving on more days than surviving.  Out here in the middle of Montana, we are enjoying the sun.  It doesn't stay warm for long in these parts, so we have to make the best of these summer days.
As always, thanks for reading.
Tags: a girl can dream, child of narcissist, cuz I am Woman, humor, narcissism, narcissist behavior, school, thriving