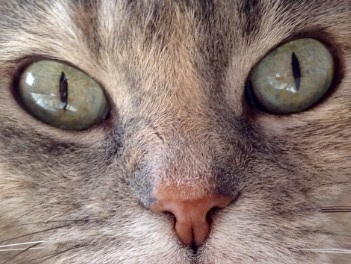 "I was watching your eye contact as you visited.  That was weird.  Your eyes were tearing up when he was talking to you, but it was a friendly conversation.  What was that about?"
Jen wiped her eyes.  "I can't look at him without my eyes watering.  It's uncomfortable – not like I'm gonna cry, but more like my eyes hurt.  So I pretend like I've got an eyelash in my eye and I keep rubbing them.  It's just really uncomfortable to keep my eyes on him for very long when he's talking – or any time."
I turned to Will, "What do you think?"
Will shook his head, "I feel the same way.  It's hard to look at him for long.  Oh, and I feel myself getting anxious when I try to tell him something.  Like I'm afraid he'll criticize what I say, so I say it fast so I can get it over with, and then I sound like I'm slurring my words."
I said, "Yeah, and then you open yourself up for more criticism."
"Yeah!  And have you noticed that when you're talking to him, he's not really listening?  It's like he's planning what he's gonna say when it's his turn to talk again."
Maybe without realizing it, they know the truth of their eyes being the gateways to their souls.  They are protecting themselves.  They don't want to risk opening that door for fear they'll leave their souls exposed and vulnerable.  Once that door is opened….
On the other hand, given the fact that he's a narcissist, maybe he's not at all interested in their souls.
"The soul, fortunately, has an interpreter –
often an unconscious but still a faithful interpreter – in the eye."
                                 – Charlotte Bronte, Jane Eyre
"When life gives you lemons, squirt someone in the eye."
                                 – Cathy Guisewite
 *I'd have posted this with a photo of either Jen's or Will's eyes, but herdin' a cat is easier.  (Jen took this one.)
Thanks for reading. If you enjoy this site, please consider donating.
Tags: child of narcissist, communication, front lines, kid wisdom, narcissism, narcissist behavior, narcissistic behavior, NPD