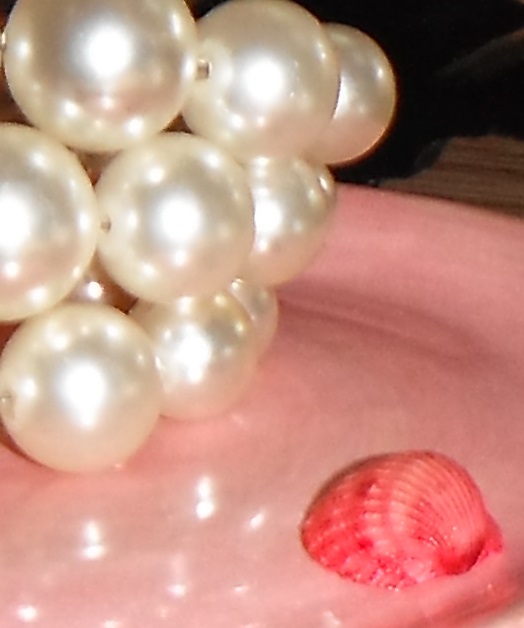 We are mostly unpacked.  We've unpacked enough so that I've created a little altar in the walk-in closet.  I know!  I have a walk-in closet!  I've never before had such a decadent thing.  In lieu of running out and shopping for clothes to fill all the empty hangers, I inadvertently decided to turn part of the closet into an altar.
(When I first saw the walk-in closet, I gasped and told him that I didn't have enough clothes to fill it.  He said, "That's okay.  This might just become your hiding place when you need to get a break from the rest of us."  I shook my head and innocently said, "Whatever do you mean?")
An altar wasn't my plan.  I didn't do a Google search for altars.  I'm not sending up offerings to the Gods and Goddesses hoping for good vibes to rain down on our new chapter, although I wouldn't mind if they sent a little good juju our way.  It just happened, as all good things often do.
I was unpacking and finding homes for things.  This new chapter seems to require different arrangements of pictures and rocks and shells and feathers and momentos that have been gathered in this new chapter.  But I am not ready to part with all the sweet keepsakes from the closed chapters.
I've also been looking for what may turn out to be my comfort zone in this new home.  I'm getting close.  The house is starting to smell more like us – Thieves essential oil, dark roast coffee, laundry soap, Italian Seasoning and a bit of garlic.  Some of our artwork is up on the walls.  The kitchen shows a lot of our favorite tools.  There is plenty of room to spread out our craft projects and make messes.  And yet, I'm still looking for that spot where I can take a deep breath, sit for a minute and try to remember what's important versus what it is I'm currently stewing about.
And so it happened that while unpacking the trinkets and baubles and feathers and stones, I started arranging them on a lower shelf in the walk-in closet.  I added pictures of Jen and Will – of course.  I pinned up some (not all, because they produce so much) of their artwork.  I added a few keepsakes from all the past chapters.  And as I added more and more pieces, I felt closer and closer to finding my comfort zone.  Just looking at all of it makes me feel content or complete or centered.  I don't know, exactly, but it feels good to be in there for a minute.
When he saw it he said, "Wow, that kinda takes your breath away.  (At first, I didn't know if he meant that in a good way or a bad way.)  Then he said, "Hey, we ought to move that out where you can see it more."  And I thought about it and appreciated that he saw how important it was to me, and I was glad he wanted to make all my little personal stuff a part of the rest of the house.  But today ….  Today I'm thinking that I like the privacy and quiet of the closet.  My stuff is safe in there – from boisterous dogs, slinky cats and breezes that blow in from an open window.
And besides, I like having an excuse to sneak away from the rest of the family once in awhile. ;)
In the bottom of the last box, I discovered my writing groove.  I think I needed to get everything put away to clear my head enough to be able to write.  Maybe that has a lot to do with finding my comfort zone, too.
Tags: a girl can dream, cuz I am Woman, gratitude, life, thriving