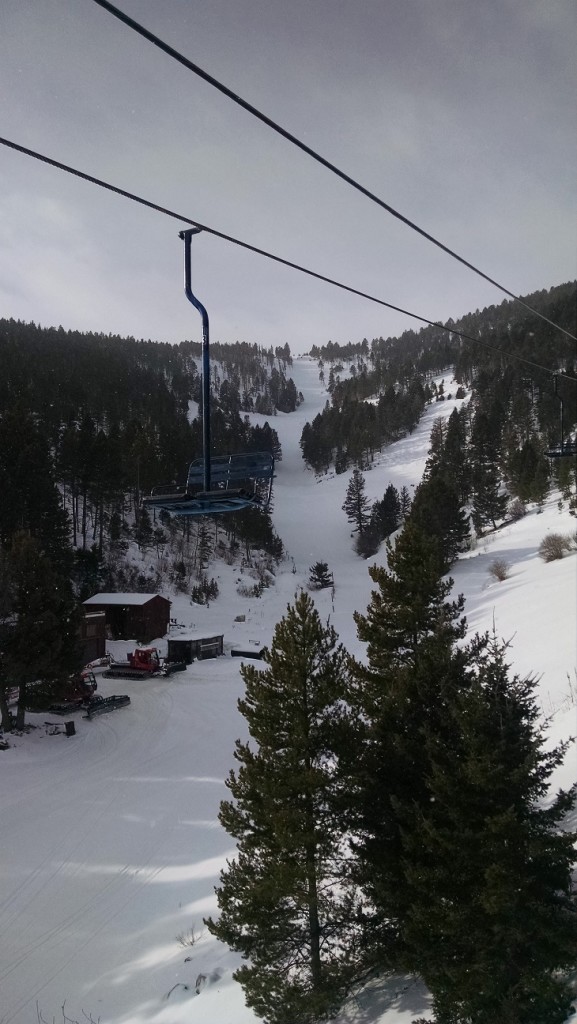 "Today is ballroom skiing."
"Huh?"
"Every time you come back from skiing, you share tales of near misses, close calls with concussions, clothes-line incidents and big-air jumps.  Today you are skiing on new/used skis after having broken a ski.  You know what ballroom skiing is.  I want to see ballroom skiing."
(I define ballroom skiing as big, wide, gentle turns and little to no air.)
I am nervous about Will skiing on some used skis that he found on eBay.  They need a lot of tuning, a little waxing and some trial and error.
Will has skied this hill, but today is the first time for myself and Jen.  Typically, the first day on our old hill involved a couple groomed runs to "get our legs under us."  I assumed we'd start the same way on this new hill, but Will is leading because he's been here before.
Will says, "Do you guys care where we start?"
"You know this hill.  I trust you to lead us."
The three of us are accomplished – to differing degrees.  All three of us can get down pretty much anything a run might throw at us – with a few exceptions.
He takes us down a run that encompasses a terrain park riddled with jumps and rails and boxes for getting air – stuff that someone with a frontal lobe might consider avoiding when on new skis.
It's easy for Jen and I to avoid the jumps and rails.
Not so much for Will.
We ski to the bottom of this park where I saw Will jump the rails and boxes, perform a tail grab and a spread eagle – all on skis he's never been on before.
We gather at the bottom of the run.
"I thought I told you that we were going to be doing some ballroom skiing today."
He laughs, shrugs his shoulders and says, "That was my version of ballroom skiing."
Three runs later, we end up on a different chair.  He seems a little apprehensive.  Even though it has become clear that he and I apparently define ballroom skiing differently, he does not want to get his butt chewed by his sister, who is not a big fan of black diamond runs.  We have taken a turn, and now we are faced with black diamond signs in every direction.
Will looks at Jen, "Are you gonna be okay here?"
Jen looks at the signs.  She looks at me.
She is not pleased.
I know her ability, and I offer reassurance that she will be fine.  I know what she can handle, but she doubts herself.
We ski to the bottom without incident.  It would seem that one hill's black diamonds are different from another hill's black diamonds, just as my ballroom skiing is different from Will's.
(I make a mental note to avoid all the runs that start with a sign showing a black diamond and an exclamation point!)
As Jen and I ride the chair, we are shaking our heads.  The conversation covers black diamond runs, ballroom skiing, and losing sleep over a son/brother who skis like a frickin' maniac.
And then I got to thinking about all the other areas of my life where I've failed at defining terms.
Just what is it that you mean when you say you want a partner?
What do you mean when you say you need space?
What do you mean by honesty?
What is too honest?
What do I mean when I say those same things?
The three of us meet at the top of the chair.
I suggest that we try a few more of the blue runs.
We laugh and agree to look for a run that's posted with a sign showing a blue square.
Tags: communication, cuz I am Woman, gentle reminders, kid wisdom, life, Parenting, survive