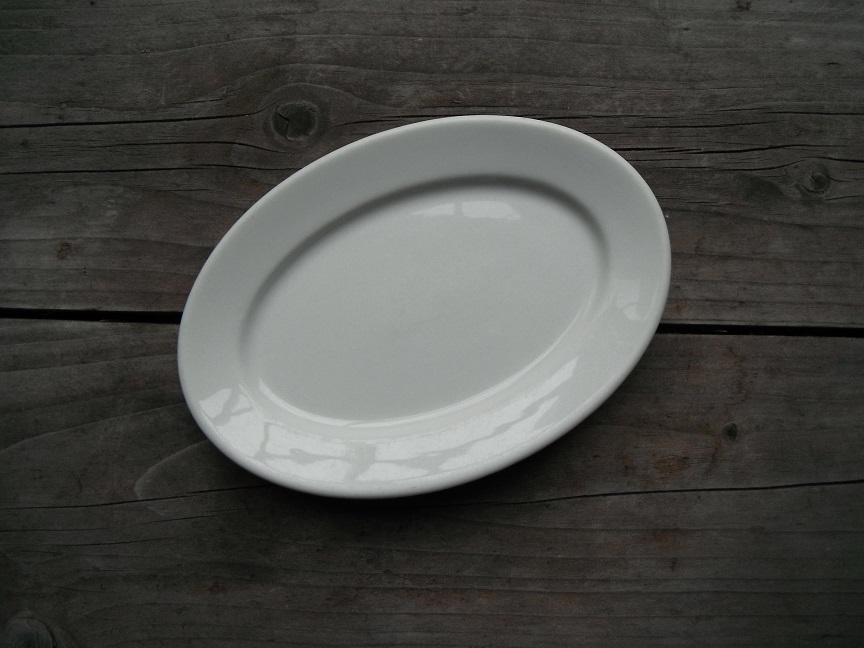 It starts with a benign thought.
I look at Jenny and say, "I wonder what I should make for dinner.  I'll go look through the freezer."  As I walk downstairs and head for the freezer, I wonder about painting the basement and look at the pictures on the wall that would need to be moved, in order to paint.  I see a landscape that my grandmother painted and I remember her friend, who taught painting, and where she lived and how her friend lived next to a gal I went to high school with and that gal now lives in Missouri and I start thinking of the flooding in Missouri and how many were forced to move; and I think of our move and wonder what people think of that and I think it doesn't matter what they might be thinking, because what really matters is where I'm going to put a garden in the spring and that leads to thinking about what the forecast is for today and hmm…  maybe I should make a pot roast for dinner, because it's quite overcast out there and this weather calls for comfort food; and I wonder if this overly long sentence should have more commas (or is it semi-colons?) and then I think that I never have known when to use a semi-colon, and …
I look down and wonder why I am standing in front of the freezer.
This is the odyssey of overthinking.  From my dreams, I would have to assume that overthinking occurs while I'm sleeping, too.  For me, overthinking is my constant state of being.
I have a fantastical memory of watching my brother mow his backyard.  The mowing wasn't so fantastical – he paced back and forth, covering the expanse of lawn with methodical steps.  As I watched, I imagined all the stuff he might be thinking as the mower did the cutting.  He could be thinking about work or his kids or what he and his wife might be cooking on the barbecue that night or how the Mariners were doing or when his next fishing trip might be or why that azalea didn't look so healthy or ….
Maybe because I'm an overthinker, I find that I'm also fascinated with what other folks are thinking about.  So when he came in for a glass of water,  I asked him, "While you were out there all that time, what did you think about?"
Here's the fantastical part.  He appeared momentarily confused, like maybe I'd changed my hair color or gotten a nose ring, and he said, "Nothing.  I wasn't thinking about anything.  Why?"
To this day, I am still trying to reconcile that moment.  I don't know if I'm envious or still in total disbelief.  How can you be doing something for 45 minutes – something monotonous and repetitive – and not have a single thought cross your mind?
It's a complete mystery to me.
As I write this post, and overthink the process of overthinking, I have determined two avenues that lead to a moment (or if I'm lucky, several moments) of NOT thinking.
One avenue is through great sex.  If you've been fortunate enough, I don't need to explain to you how your brain blissfully shuts down.  If you haven't been fortunate enough, I'm pretty sure you, too, are an overthinker, but perhaps for different reasons.
The other way to achieve a state of not overthinking is a colonoscopy*.  The prep is much worse than the procedure, and afterwards, you are left with an attitude that is best described as: "I can't make myself think about anything right now." Or, the more obvious, "I don't/can't give a shit."    Maybe it's related to the total cleanse of it all.  More than likely, it's about the drugs they give you.  At any rate, my kids even noticed how zen I was.  Just the other day, Jenny said, "Mom, remember how relaxed you were after your colonoscopy?"  Which, of course, led me to overthink that she might be suggesting that I've been a bit difficult to live with lately, and perhaps it's time to schedule another procedure.
And that's the hazard of overthinking.  It's pretty easy to go from mountain to molehill in a matter of minutes, only to find yourself wondering why you're standing in front of the freezer.
But where is the art in overthinking?
I once read about the thought processes of both sexes, because I probably needed something else to overthink about.
The writer suggested that a woman's thoughts are like a plate of spaghetti where each noodle is intertwined with the next.  All her thoughts are connected in one way or another.  It may seem jumbled, and perhaps it is, but it all makes sense (to her) in some sort of warm, starchy, stuck-together sort of way.
The writer goes on to say that the thought process of a man is like a collection of boxes.  He thinks about something and, when he's done, he puts it in a little box and then moves on to another box.  If he can't do something about what's in a particular box, he puts a lid on it and may or may not come back to it at a later date.  (Gasp!  I know!  Right?  For this particular overthinking female, it is virtually incomprehensible to think that I might be done thinking about something just because I can't do anything about it.)
Therein lies the communication problem between males and females.
This is not to suggest that men do not overthink.  I've listened as they sort through the contents of each box.  I've also witnessed the shell game they play as they overthink and decide which boxes should have lids.
Anyway, I've noticed there is an art to analyzing my plate of spaghetti.  You see, in those quiet moments (in the shower) when I'm not answering questions, or looking in the back of the math book for solutions, or barking at someone for putting the lid on the coffee container, thereby leading me to believe that we aren't out of coffee, when, in fact, there isn't a gram of coffee left in the house, I rather enjoy discovering the interconnectedness of those strands of spaghetti.  Sorting out which thought led to which becomes a game.  Sometimes I get Jen to play the game with me.  I'll say, "What made you think of that?"  And she'll say, "Well, when you asked me why I painted my nails these colors, I thought of the Ravenclaw colors and then I thought of reading and then …."  And we're off and running.
Will is busily putting lids on his compartmentalized boxes during these conversations. He has yet to re-open the Math box.
At any rate, the art is in – after establishing the connection between each strand of spaghetti and being satisfied that everything is, indeed, connected – taking a deep breath and realizing that tomorrow is a new day full of lots more overthinking but that for right now, I can stop overthinking.   I can happily let my brain be free of spaghetti and enjoy the delicious quiet of a clean plate.
*After living with a narcissist, how bad can a colonoscopy be?
Tags: a girl can dream, cuz I am Woman, gentle reminders, humor, infj, life