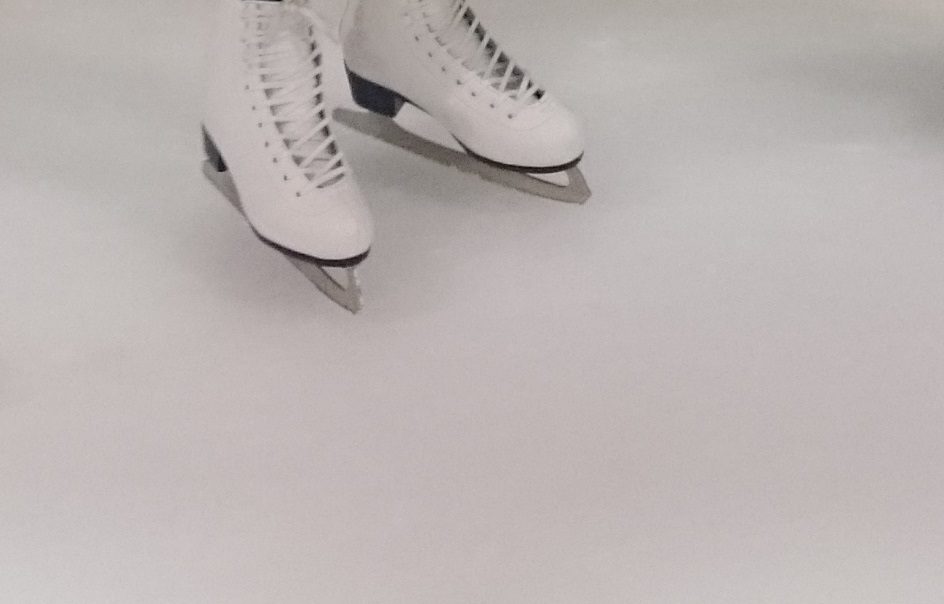 She gets there as soon as the ice is free for open skating.  She's quick to tie her laces and get out there.  This gives her time, even before the loud music starts, to skate a couple laps before the crowd starts filtering in.
I watch her glide.  I can hear her blades every now and then.  The sound brings us both to the moment.   I notice thoughts of yesterday drifting from my brain.  I assume they are headed for the car.  My brain tries to coerce me into thinking about what to make for dinner.  I ignore it.  I feel my hand wanting to reach for my phone and I resist.
I imagine she has, by now, trained her mind to focus on what her legs and arms are doing.  She's graceful in the skating.  Her arms are relaxed.  Her face appears calm, with a hint of a smile – eyes trained ahead.
The quiet is blissful, even if for only a few precious minutes.
And then they arrive.  They are excited and loud and yelling at their friends and starting games of tag.  The manager of the rink starts the music.  He doesn't look like the kind of guy who likes pop, but that's what he plays.  He turns it up, and the crowd gets louder.
She continues making her laps, but now she weaves around skaters, avoiding the aggressive hockey stops and the intrusive game of tag.  She darts in and out, maintaining her focus.
She slows when she reaches the north end of the rink.  The bulbs of two of the light fixtures have burned out.  The north end is slightly darker and less crowded.  This is where she chooses to practice spins and crossovers.  She works on her arm movements, trying to spin faster.  The game of tag comes into her space once in awhile, and then she moves to the perimeter and waits for them to pass, or she skates a lap to avoid the chaos.
Then I see her.  We've seen her at the rink a few times.  She is about the same age.  Her hair is dark and short with an orange streak over her eyes.  As she skates, she pushes her glasses up the bridge of her nose.  She focuses with the same intensity as Jen.  On her first lap, I see that she and Jen make eye contact.  After a couple warm-up laps, Orange settles into the north end, leaving a respectable space between herself and Jen.  They make eye contact again.  I can't tell if they smiled at each other.  I don't think it matters.
I go back to reading my book.
When I look up, I see them both working on their arm placement and tightening up their spins.  When the game of tag encroaches, they move to the edge and wait.  As the game moves on, they come out to practice more, exchanging a knowing glance.
I see a woman approach Jen.  I can't hear her, but she talks with lots of energy.  She appears friendly.  She's right in Jen's space, though, so Jen moves back a bit closer to the wall.  The woman talks with her hands and seems to have a lot to say.  I see Jen reply with a few words, a shrug of her shoulders and a nervous smile.  The woman skates off with a group of friends.  Jen and Orange exchange another look that I read as, "What was that about?"  Even with that shared glance, they are careful to respect each other's bubble.
The rink gets busier and noisier and, after about an hour or so, Jen comes over and tells me that she's had enough.  To be clear, she's not tired from the skating.  I believe she could skate the better part of a day without breaks.  She's tired from the noise and the energy of the crowd.
As we are driving home, I asked about the woman who had approached her.  "Oh, she was asking me how to do spins, like I'm some kind of expert or something."  I asked, "Did you chat with Orange today?"  She said she hadn't, as if there was any need to.
Tags: a girl can dream, gentle reminders, kid wisdom, life, thriving