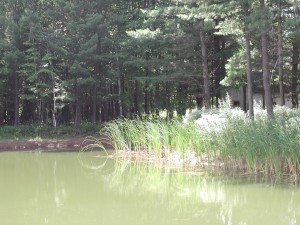 My life changed the day I gave birth to my first child.  "So tell me something new," you must be thinking.  But if you are a narcissist, you can't say that.  If you are a narcissist, you don't want to say that your life changed the day you had kids.
Before having children, your life is confined to a nice, tidy boat.  Sure, the boat can get tippy.  Sometimes the boat can even take on water.  Most of the time, if you are lucky, you float your boat, and watch the world from inside, without too many disturbances.  If you are really lucky, you have children and your boat capsizes.  You end up swimming in the warm, crazy pond of life.  Some days you can barely keep your head above water.  Some days you float on your back and enjoy all that the pond has to offer, but you never leave the pond for the safety of the boat.
And you don't want to.
The arrival of children may rock the narcissist's boat, but the boat never capsizes.  Narcissists control their boats very well.  They will experience inconveniences periodically, but basically, their boat remains intact.
I was in labor with Will for 22 hours.  Labor started at 11:00 p.m. on a Sunday night.  I jostled Mark a little, told him it had started, but that I would go downstairs so he could continue sleeping.  At 4:00 a.m. he got up to get ready to go to work.  When he was leaving he said, "Just hang in there until 8:00 a.m., because I should be done with everything by about then, and I'll be free to take you to the hospital."
I'd never done the labor and delivery thing before.  I didn't know what to expect.  It seemed reasonable to hang in there, and at this point, I'd had lots of experience in trying not to be an inconvenience.  I didn't have a clue that I was going to be hanging in there until about 8:00 the next evening.
Mark hung out all day at the hospital with me, once it was convenient for him to do so.  Any good narcissist wouldn't miss an opportunity to try to steal the show.  He was the stoic, strong, supportive husband to the wailing, exhausted, spent wife.
And when Will finally arrived, Mark got to parade around the room a la Lion King.  I remember watching him hold Will and thinking to myself, "Hold him tighter, it's not like he's going to get you dirty."
__________
Late one night when Will was 6 weeks old, I was nursing on the couch.  Mark was watching TV next to us.  I was thinking that everything was right with the world.  Mark turned to look at me and he said, "I can't do this?"  I was startled out of my contented place and said, "What?  You can't do what?  Watch TV?  Sit on the couch?  What?"  And he said, "This marriage.  I can't do this marriage."
I felt the sky fall.
Pieces of sky clattered at my feet for days.  I'd change diapers, put in another load of laundry and sweep up the sky while life continued in a precarious sort of less-than-secure, holding-my-breath way.  That's how life is when you never know if your partner might decide to not come home.
__________
I guess I cleaned up the bits of sky enough to please Mark, and so…
Jenny was born four years later.
I have sweet memories of holding my babies in the hospital,  feeling warm and happy and peaceful.  Getting home with the babies wasn't so warm and happy.
__________
Three years later in marriage counseling, I remember describing an image I kept seeing in my mind.  I would see myself and the kids on one side of a wall.  Mark was always on the other side of the wall.  I kept struggling to pull Mark to our side of the wall.  When I wasn't struggling, I was hoping that he would decide to join us on our side.  When Mark heard this he said, "Well I've been waiting for you to come to my side of the wall."  I said, "I can't leave the kids alone on the other side."  He said, "They'll be fine."
There was Mark, floating along in his boat with the kids and I swimming in the pond, waiting for him to join us.  He had no desire to join us.
I often say, if I hadn't had kids, I'd probably still be married.  Before children, I did a pretty good job of feeding his narcissism.  When kids came along, he felt he'd lost his perch on the top of the heap.  I couldn't figure out why one of us had to be on the top.  Why couldn't we all be at the bottom of the heap together?
Tags: child of narcissist, divorce, life, narcissism, narcissist behavior, narcissistic behavior, NPD