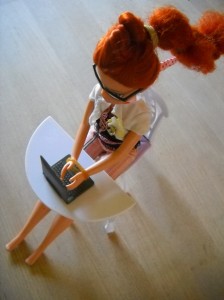 I do  follow the rules in unfamiliar situations.  I read the signs, ask for directions, follow the guidelines and survey the expert opinions.  But once I'm in my comfort zone, I start to look at things differently.   I start to ask, "Why?"  I'm not trying to be belligerent.  I'm trying to understand if the reason something "has always been done that way" is really the right reason for doing it that way.
I ask a lot of questions.
Public school is the way that educating has always been done.  Is that the right way for the three of us?
I have a lot of questions.
The decision of home school versus public school is weighing heavily.  Actually, it wouldn't weigh anything if my natural inclination was to follow the herd.  I wonder if the herd has all the answers.  Just because public school has always been the commonly accepted way to teach, can't there be other good options for kids and moms on the fringe of the herd?
At this point, would the herd say, "Get your kids closer to being like every one else.  They'll struggle on the fringe.  The fringe isn't safe.  Help them be like us."
To the herd I have to say, "I love you all.  You are all marvelous.  We can be different and still be happy on the fringe."
Should I follow the herd because that's what a good girl does?  The herd seems to think public school is the proven path.  The herd looks at me like I'm sporting a third eye in the middle of my forehead.  They enthusiastically tell me that public school is where the best socialization happens.  They tell me that while I might be smart enough, or even patient enough to teach my kids, my kids need to hang with someone else during the day.
My kids have been pleading with me for two years (Will for four) to home school them.  The research says home school doesn't work when the parents are forcing it on the kids.  In our case, no one is being forced.  We all want this option.
We are gathering more information to make the best choice for all three of us.  We checked out a new public school this last Friday.  We went for breakfast after checking out the school, teachers, principal and the kids that would be in their classes.
Here are the points that Will and Jen made over Apple Jacks and pancakes.
Is it bad to be different?
Why did you spend so much time raising us, only to drop us off at a place that makes us unhappy.
Do you really think I'll learn if I'm cooped up in a classroom all day?
How are we supposed to learn about stuff we love if we have to study what they think we love?
We learn best when we are happy.
Why are we fixing this, if it (home school)  isn't broken?
Why do they bribe us with free pencils and candy?  We have pencils at home.
Isn't public school for kids whose parents work some where other than home?
I'll make friends on the golf course.
I already have friends that I like.
Why do they bribe us to read?  Why don't we just read what we like?
We know more about drawing and painting than the art teachers.
There was a kid crying in the class, and when a couple kids tried to help him, why did the teacher tell them to leave him alone?
Why do they tell us what they are going to do to us if we do something wrong?  Why do they just assume we are going to do something wrong?
Why do we have to listen to a counselor that tells us how to behave?  Isn't that what we learn at home?
They try to make it sound good by telling us about the field trips.  We go on way better field trips with home school.
In my feeble attempt at being the Devil's Advocate, I asked, "What about football games, being a cheerleader, the debate club, or working on the school paper?  What about making friends for life or learning how to stand in line?  What about learning to fill your day with busy work and learning to work  independently?  What about learning to work with and in a group?  What about respecting authority and learning to deal with all personality types, including bullies?
They both looked at me like I'm sporting a third eye.
__________
If you have anything to add to our file of home school vs public school info, this is the time to comment.  We would LOVE to have your input.  I'll share it all with Will and Jenny.  Even if you are an avid public school supporter, I want to hear it. I want to know why public school would be the right choice for my two independent, creative, happily skating, skiing, living-on-the-fringe kids.
Talk to us.
*Update:  8/25/2011
We are looking forward to beginning our second full year of home schooling.  We haven't looked back at public school since we made the switch.

Tags: humor, in search of self, life, Parenting, proactive, school, survive