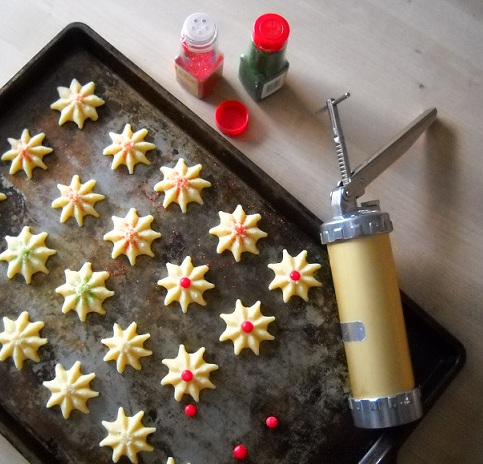 We made Spritz Cookies on Sunday.  They're my favorite Christmas Cookie, and my brother's, too.  And now, they are Jenny's favorite.
Forever, the tradition has been to only have Spritz at Christmas.  They are special, and they should be saved for a special time of year.
A couple years ago, Jenny asked, "Mom, can we make Spritz other times of the year?"
I started to tell her that Spritz were only made at Christmastime and that is what we do, but I stopped myself. I couldn't think of a good reason for not making them other times of the year.
I don't have good china, but I think it must be like using your china for special occasions, and then realizing you hardly ever pull out the china, or the good silverware or the fancy linens or the other special stuff.
So we make Spritz Cookies several times a year.
Making them more times a year hasn't tarnished their holiday status.
They are still my favorites.
Aunt Pat's* Spritz Cookies
1 # butter
1 C sugar
2 eggs
5 C flour
1 t almond flavoring
Cream butter and sugar.  Add eggs, flour and almond.  Knead as you do for bread dough.  Press the dough through one of those cookie press thingees.    If you have kids, let them pick which shapes they want to make.  Use lots of sprinkles, candied sugar and jazz to make 'em fancy.
Bake at 325 for 8 minutes.
This recipe should make about 9 dozen cookies, unless you eat a lot of dough, like we do.
I've never tried making these without a cookie press thingee.  There'd really be no point.
__________
When we were pressing the cookies last Sunday, I got to thinking about other customs, rules or ways of doing things that I assumed I must do, because they've always been done that way, but that I no longer feel compelled to do.  I came up with a personal list:
Stay married because society thinks that's what I should do, because it's best for the kids.
Send my kids to public school because that's what everyone does.
Put my kids in day care to get a job that pays a lot of money to have a big house.
Color my hair to hide the gray.
Buy an x-box/wii/whatever to entertain the kids.
Now I'm looking closely at my traditions of  making and sending Christmas cards, and making ornaments.  We'll keep those customs as long as we still enjoy them, even if we're the last folks on the planet to snail-mail homemade Christmas cards.
Look at your customs, habits and routines.  What do you really need to keep doing?
*Life is full of irony.  Two of not very many recipes on this blog are from my Aunt Pat who only ventures into the kitchen to refill her cup of coffee.
Dear Santa, it looks like I could use a new cookie sheet for Christmas.  Hope you like the Spritz!

Tags: divorce, humor, life, marriage, Parenting, school, survive