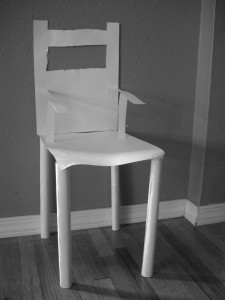 I walk by this chair multiple times a day.  I've swept the dust bunnies of cat hair away from the rolled paper legs. I've straightened the legs after one of us has cut the corner too tight and clipped the edge of the chair on our way to the kitchen.  Each time I walk by, I wonder what it might be like to be light enough to sit down on this delicate chair.
I picture my spirit sitting on this chair with a white cup of tea.
Lately, my spirit has been heavy.
__________
Jenny made this chair while I was shoveling snow for the 57th time this winter.  I'd have been kicking rocks while I was yammering about the weather, only all the rocks were buried under eight inches of new snow.  While I was shoveling, Will was snowboarding on the fresh snow that blanketed the park across the street.  I could here the gliding sounds of his board.  Every now and again, I'd hear him yelp with excitement when he'd nail another epic kicker. I thought to myself, how can anyone have that much fun in this weather?  It's 9 degrees outside.  How can that be a desirable way to spend an afternoon?
After shoveling the last pass on the driveway, I grabbed four more pieces of fire wood, knowing I would be grabbing more fire wood all day long, and every day for three more months.  I walk in the house, balancing firewood, and kick off my boots.  Jenny is sitting at the kitchen table smiling.  What is wrong with her?  Why is she smiling?  It's cold out.
This winter will never end.
She has the nerve to say, "Mom!  I'm making a chair out of paper.  It'll be so cool."
I set the firewood in the basket, next to the wood stove.  I take off my jacket, and then the polar fleece layer underneath.  I grab a sweater and add one more piece of wood to the fire while mentally making calculations to determine if we'll have enough wood to make it through the season.  I sweep up the ash and bark chips on the hearth.
As I put the kettle on for tea, Jenny announces that her work of art is complete.  I'm impressed that the chair is structurally correct, but more than that I'm amazed that she is enjoying herself.
We tape the  back of the chair to the wall, just as Will comes barging in the front door sending snow, mittens, goggles and boots in every direction.  He can't wait to tell us how high and how far he jumped.  His 180s are getting better with each jump.  "Mom, did you see how much snow is still at the park?  Isn't it awesome?  Is there more snow in the forecast?  I hope so!"
With that, I realize I am the Grump in the house.  What's wrong with me that I can't see all the fun to be had on such a day?  How have I lost the ability to see the infinite possibilities in any given day, no matter what the weather brings?
The doom and gloom of being a responsible grownup have settled over my shoulders like the charcoal-colored sweater I wear every day to ward off the chill.
*Note to self:  Please buy yourself a sweater made with cheerier colors.
I make the executive decision to serve homemade apple pie for dinner.  I create a James Taylor Channel on Pandora that cycles through Taylor, The Eagles, Loggins and Messina, Van Morrison and all the stuff I listened to when my biggest concerns were which faded jeans to wear to the kegger on Saturday night, and how much time I'd need to re-write my notes for the exam on Friday.
I brew a fresh cup of tea, and grab a piece of the extra dark chocolate that Will convinced me would help my lousy mood.
I announce that I'm taking a break.  I pass up the magazine with the articles on "Best Winter Getaways" and opt for the issue with the bronzed gal in the bikini and the words, "Best Beach Vacations".  My feet are up.  I'm not worrying about firewood or shoveling or heating bills or whether we have enough milk.  I let the creases in my brow relax.
I glance at the paper chair and admire its lightness and simplicity – both good qualities to emulate.
…
When days get difficult, we could all use a "paper chair" to remind us that this time is not permanent.  A "paper chair" could be anything that re-directs your thoughts:
a candle
music
a favorite book of poetry
a call to an old friend
a matinee
a walk in fresh air
a picture from a favorite vacation
surfing

@Pinterest
What is your "paper chair"?