I found it at a thrift store in Bozeman in 1987.  The silk label reads, "Mardi Gras – New York," in a fancy script beside an image of a black mardi gras mask.  The fabric is a brocade of black and midnight blue.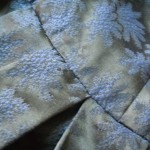 The cut is classic feminine, putting curves where I don't have them.
I bought it to wear to a costume party.  The party was a spoof of a 1965 high school prom.
I wore black pumps, cat-eye glasses, and carried a black and white box purse.  I curled, sprayed and teased my normally undone brown hair.  After a couple glasses of wine, we decided we couldn't add anything more to our costumes.  On the way out the door, I took a look in the mirror and gasped.  I looked like a taller, less refined version of Jacqueline Onassis.
I did not look like me.
My wardrobe at the time (it's actually not much different now) consisted of flannel shirts, Levis and t-shirts.  Most of the folks at the dance didn't recognize me.
Apparently, I was attending the ball as my alter ego.  It was a blast to be delicate and dainty and refined and classy.  It was enjoyable being pretty, even if it was uncomfortable being looked at in a whole new way.
_____
That dress is still in my closest, hanging below a shelf full of faded Levis, high school annuals and shoes I never wear.  My alter ego won't let me pass the dress on.  Jenny used to love to put it on when she was going through her dress-up phase.  Now she prefers jeans, skater-dude shoes and long-sleeve shirts.
I notice she's more comfortable covering her body.
I suppose she gets that from me.
_____
A few months ago I was playing on Pinterest.  I Googled Vintage Cocktail Dress and discovered this dress.  I loved the color, the fabric and the cut.   When I pinned it, I labeled it, this pink.
Hardly a day goes by when I don't get an email from Pinterest saying that someone has repinned this pink.
I marvel at how that dress appeals to so many.
Why does that dress speak to us?
What do you think when you see it?
Is there something in all of us that makes us want to wear a dress that is completely feminine?
Does that dress speak to an alter ego  hidden behind jeans and t-shirts?
Does this pink whisper to us to come out and dress up and have tea and write letters in long-hand and place doilies on end tables and walk with grace and better posture?
Is that why I can't give the Mardi Gras dress to Goodwill?  The black and blue dress reminds me of my roots as a female – a female who used to love to dress up and fix her hair and decorate her home and tend flower beds.
Jenny won't let me get rid of the black dress either.
Tags: in search of self, life