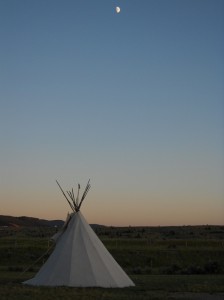 When her babies were small, she had an urge to knit tiny striped mittens with pink and green and purple fuzzy yarns.  Now her kids wouldn't be caught dead wearing handmade mittens.  Friends were having babies who needed their precious hands protected from the harsh winter winds.  She could make mittens for those babies.
She was waiting for her mom to teach her to knit.
He often found himself at a friend's house on Saturday afternoons, and after swilling a couple beers, someone would suggest playing a pickup game of basketball.  He'd laugh and say, "I'll sit this one out.  I'm lousy at basketball."
He was waiting for his dad to teach him how to play basketball.
He'd read all he could find on SEO, blog traffic, building customer loyalty and what the experts had to say about making money on the internet.  He'd finished his most recent course, made some progress and signed up for the next impressive looking webinar that would surely push his project over the edge.  He lacked the confidence to believe that he had the skills and knowledge that would make his project a success.
He was waiting for his dad to acknowledge his hard work and determination.
She folded the clothes as soon as they came out of the dryer and tucked them away in the drawers.  The minute a toast crumb hit the floor, she was there with the broom.  If the kids started to get too loud while he was getting caught up on the morning papers, she was quick to shush them.
She was waiting for him to tell her that she had finally proven that she was lovable.
He put in extra hours at the office, bought her the new car, made the move to the neighborhood with the better school, and promised they would vacation every summer with her parents.
He was waiting for her to tell him he was good enough.
She lit the candles and told herself things would get better when he got the new promotion.   The money pressures would lessen.  Surely then she'd quit yelling at the kids.  He would start sleeping better.  They could slow down and take the time to appreciate each other.
She was waiting for the wrong solution for her problems.
She hoped that one day they would understand the choices she made, and respect her for walking her own path.
She was waiting for approval she would never get.
__________
And so it was that one warm summer evening, she stopped waiting.
She stepped out to look at the moon and breathe deeply of the sage.  Her toes felt the dew on the grass.  With each breath, she felt stronger and more certain.
She had nothing more to wait for.
What are you waiting for?
Tags: child of narcissist, divorce, in search of self, life, marriage, narcissism, narcissist behavior, narcissistic behavior, NPD, Parenting, survive