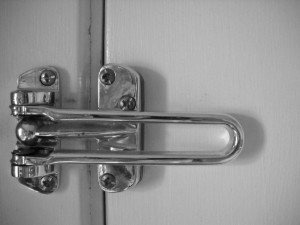 I wanted to find out what happened to Lisbeth Salander – really, I did.  I made it to page 532, out of 600 pages.  I almost got there.  In the middle of the book, where she's attacked by the bad guy, I almost quit reading.  I told myself, "Oh come on, you wimp, certainly there will be justice in the end.  Keep reading."  But at about page 489, I'd walk by my nightstand and I'd swear the book was growling and baring its teeth at me.  I felt the need to cross my arms in front of my chest to protect myself.
I returned the book – unfinished – to my girlfriend.  She'd also loaned me the second in the series.  "I'm sorry," I muttered, "I can't do it.  It hurts to read it."  She knows me.  She just smiled.  I looked at her coffee table and saw another book that looked intriguing, and started to say, "How's that one?"  She politely stopped me and said, "You won't like that one, either."
*sigh*
I wanted to watch Javier Bardem in "Biutiful".   Last night I tucked the kids in and sat down for a rare treat – a grown-up movie.  I made it through 50 minutes before my stomach started to tighten and I noticed my fists were clenched.  It was raw and edgy and artsy and he was biutiful.  I had to stop watching to protect myself from the anxiety I feel whenever I'm exposed to turmoil.
*sigh*
I want to be the camp-director type of mom who doles out popsicles to every kid in the neighborhood, hosts the air-gun wars and puts on the Barbie Fests in the backyard.  I can make it 20 minutes before I retreat to my bedroom, pull the shades and lay in a fetal position on the bed.
*sigh*
__________
I couldn't sit through Reservoir Dogs.
I tear up at Hallmark commercials.
I cried at the end of Toy Story 3.
I had to stay in the theater through the credits and the popcorn-pick-up and the entrance of new viewers for the next showing of Platoon, in order to collect myself enough to walk to the car.
I can't watch if it looks like someone is going to get hurt on America's Funniest Videos.
I want to watch and read the raw, edgy, crazy popular fictional stuff.   But the raw, edgy, crazy stuff in real life is almost more than I can handle.
If it's loud, I turn it down.
If it's violent, I quit watching.
If it's too crazy, I quit reading.
Loud, violent and crazy sap my energy.  I have to protect my energy.
__________
Last week, when I was up to my ears in water balloon fights, fudge pop drips, screaming matches and all things related to cousins who jam-pack a whole summer's worth of fun into one week, the Universe reminded me that I am an INFJ.
After re-reading all the stuff about INFJ's, I remembered that I'm not a wimp.  I'm sensitive.  I feel everything and get overloaded quickly.  That's not a bad thing.
I repeat…  That's not a bad thing.
It serves me well to know what my default setting is. I must build time-outs into my day.  I must retreat to a quiet spot regularly to re-energize.
__________
I had forgotten that out of the 16 personality types in the Myers-Briggs assessment, the INFJ is the Protector.
That explains my need to protect my energies and, more importantly, my kids.
When someone tries to tell me that I can't protect my kids from their narcissist dad, my gut says, "Oh yeah?  Watch me!"  My logical brain overrides and says, "Of course I can't protect them from their father, but I can teach them about narcissism and help them develop the tools they need for dealing with their dad."
*Want to understand why your lens has you viewing the world the way you do?  Take the test and get your assessment.  It makes a lot of sense, and explains why we approach things the way we do.
Tags: child of narcissist, in search of self, narcissism, narcissist behavior, narcissistic behavior, NPD, Parenting, proactive