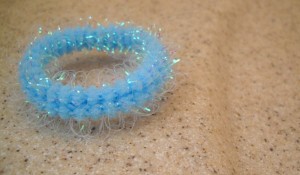 It sat there for six days.
I couldn't bring myself to put it away.
In my typical state of doing too many things at once, while talking to Will, brushing my teeth and straightening the bathroom, I almost tossed it in the cupboard.
But I stopped myself.
I had grown to like the look of it.
Really.
I'm okay.
I swear.
__________
I liked its simpleness.
I liked its sparkles.
I liked that it barely left a slight shadow.
I liked how it stood out amongst the things it sat beside.
I liked how it waited patiently until it was pressed into service.
I liked that it didn't have an identity crisis, and knew completely and without a doubt what it was expected to do.  It might be worn on a tiny wrist or twisted into a doll's hair, but it had a single, primary function that it performed better than most anything else.
It didn't care that it was no longer in style.
It didn't care that it wasn't used very often.
It levitated happily, in its place, letting its shiny threads brighten our day.
Oh… to be a Sparkly Turquoise Scrunchy.
Tags: humor, in search of self, life, proactive, survive