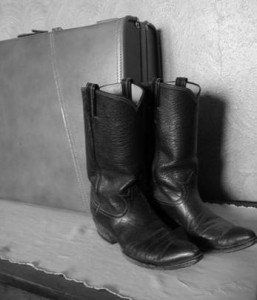 The day the three of us packed our boxes and moved out of Mark's house was also my Grandma's 90th birthday.  There was a gathering at the nursing home, and the kids and I loaded the boxes in the car, and headed to the birthday party.  That sounds bizarre.  The fact that we put the boxes in the car, and went on with the plans of our day was a real indication that my mind was made up.  I couldn't put the decision off because of a 90th birthday party, so we packed and went to the party.
My dad was there.  He's a real piece of work.  There's a whole blog's worth of stuff to say about my dad.  And because there are divorces and re-marriages in my family, there were current spouses, ex-spouses, and ex-ex-spouses at this affair.  I am not close with my dad, and I don't see him often even though we live in the same town.  A relative once told me that my dad had mentioned to her that he had seen me crossing the street downtown and there were two little kids with me.  My dad actually asked the relative who those kids were.  He had met them, of course, but he has so little to do with us that I think he sometimes forgets that I have kids.  Anyway, I  didn't want him to be the last family member to know that I had decided to leave Mark, and I knew I wouldn't be seeing him again, any time soon, so I figured I'd find a moment at the party to quickly explain my plans.  The kids and I were getting ready to leave the party, so I asked my dad if I could talk with him out in the hallway for a second.
We go out into the hallway and I tell him that I've decided to leave Mark and that the kids and I would be staying at mom's for awhile.  He looks at me, his eyes well up with tears and he says, "You go back in there and you tell Mary that she should have never left me."  I couldn't help it, but I heard myself say, "Huh? Mary?  Mary who left you six years ago?"  And he sobs, "Yeah, Mary has no idea how she hurt me.  You go tell her to come out here and talk to me."
I just walked away and let him stand there feeling sorry for himself.  I wanted to say, "I'll be fine, dad.  Don't worry about me, dad.  Don't worry about Will and Jenny, Dad.  We'll be just fine.  We don't need anything."  But all I could do was walk away.  You have got to admire the kind of talent, skill, cunning, whatever you want to call it, that  someone has to have to turn another person's hardship into something that is all about them.
Tags: all about me, child of narcissist, divorce, humor, narcissism, narcissistic behavior, NPD