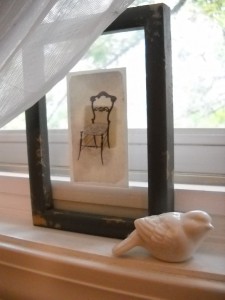 I play mental tricks on myself. When we wake to nine inches of new snow and a temperature of 15 degrees, I tell myself, "Hey, we have lots of firewood, the furnace is working and the skiing will be great." When our typically bright blue sky is overcast and gray for the second day in a row, I grouse a little and remind myself that I'm getting lots of chores done. When my kids complain about having to do lessons in the morning instead of riding their bikes or skateboarding, I remind them, "You know, you guys could be sitting in a desk at public school for seven hours."
I try to find the positive in a less than rosy scenario. It's a coping mechanism – a self-protective measure to ward off the funk.
Sometimes the scenario requires that I be more creative than usual.
Last night when Jenny was crying at the dinner table because her dad wouldn't let her bring her favorite fuzzy yellow blanket home to our house from his house, I struggled to find a silver lining on her cloud.  I scraped the bottom of the barrel looking for a positive comment, when Will remarked that he, "almost threw up at Dad's house," because his dad made him read a four-page letter attesting to his own greatness before he'd let his son open his birthday present.  When the kids told me that they had to ask their dad to feed them lunch, I reminded myself that at least they'd arrived home safely.
Even a wise, older-than-her-years eight year old can't see the logic in not letting a little girl have a cherished blankie.  All she could think was that she must not be a very good kid if her dad wouldn't let her have her blanket.  What twelve year old boy needs a lecture on the greatness of his father, before he can open his birthday present?  "Mom, he's trying to show me he's wonderful by making me read this letter, then he hands me a cool pocket knife, and that's supposed to make everything fine?"
The three of us talked at the dinner table.  Once again, I told them that Mark probably isn't going to change.  I heard myself say, again, "This is the way your dad knows how to love you.  We've been through this before.  You guys know how to handle this.  You both are getting older and stronger."
And then I heard myself say, "At least he doesn't live with us."
__________
I want to hear from you if you know of a narcissist who has changed how he/she relates to his/her kids.  If you know of a happy ending between a narcissistic parent and his children, I want to hear about it.
I am jaded.
I don't believe there is a chance he will change.
I don't want Mark to change because I hope to re-connect with him.  I'd sooner walk back and forth through the soft stuff  – barefooted.  I'd invite seven Black Lab puppies to live with us.  I'd send my kids back to public school before I'd even spend a nanosecond thinking about getting back together with Mark.  Just typing that makes my skin crawl.  I do wonder if it's out of line for me to give my kids some kind of hope of a change.  Or do I tell them, "This is it.  Buck up.  Be tough.  It'll never get better."
Do I tell my kids that this is how it's going to be forever?
At least he doesn't live with us.
Tags: all about me, child of narcissist, divorce, narcissism, narcissist behavior, narcissistic behavior, NPD, survive