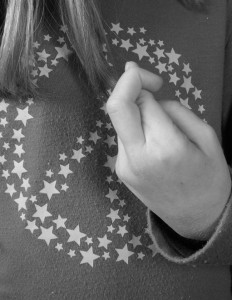 They hadn't seen him in three weeks.  On Friday night, they spent over five hours with him.  When they walked in the door, at the end of the night, I did a quick scan to check for rapid blinking, slumped shoulders, nervous pacing or shell-shocked expressions.
Nothing.
Will and Jen spoke animatedly about the event they attended.  They talked of what they'd had for dinner and the stories shared.  They spoke of the folks they saw.
They didn't mention the  baby voice, or the martyr tone.  There was nothing about being overly embarrassed – other than the typical ways that all parents embarrass their kids.  Nothing about hurt feelings, or insults, or critiques about hair, dress or table manners.
__________
I'm writing this while we do our lazy Sunday morning routine.
Normally, by now, one of them would have come up with an, "Oh, Mom, you know what he did?"
Nothing.
The only question I have asked was, "Did your dad mention anything about when you might get together again?"  They both answered, "No."
Does that mean he's sticking with the plan?  Does that mean he's still letting the kids determine when the visits will happen?
Did I finally get through to him in that Wednesday morning meeting?
Have the kids developed thick enough skins to withstand whatever he dishes out, without them having to vent, react, or suffer bruising?
Has he changed?
When he came to the door Friday night, he had a gift for one kid, and not the other.  Clearly, he still hasn't made much headway in the empathy department.  Because we've seen him play favorites so many times, the kids took it in stride.  I saw them share a glance.  Jen looked at Will with an expression that said, "Sorry, but last time it was you, wasn't it?"
I know Jen and Will have grown, adapted, and matured.  Apparently, they've developed some powerful tools for dealing with their dad.
Have we turned a corner on this whole mess?
Have we found a playing field where all parties can relate without any casualties, setbacks or attempts to run away in the middle of the night?
Can it be?
Tags: child of narcissist, marriage, narcissism, narcissist behavior, narcissistic behavior, NPD, Parenting, proactive, survive