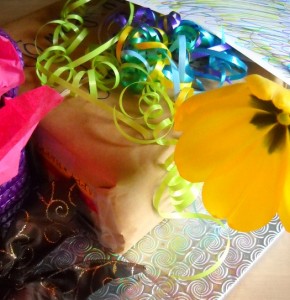 As I sit here sipping coffee, smelling blueberry pancakes and looking at the birthday presents my kids made and wrapped, I can't help but think I ought to be writing an inspirational post about what it's like to be turning 49.  Gasp!
I could write about 49 lessons learned in 49 years.  That might be tricky since many of those lessons I didn't get the first, second, or even third time, so that list could get pretty redundant.
I could write about being grateful that my mom is still here to make me what I want for my birthday dinner.
I could write about the surprise of my dad remembering my birthday, inviting me to lunch and suggesting that Jen and Will come along, too.
Or, I could mention the amazing growth I've experienced in the last few years, from learning all I can about narcissism and how that has helped the three of us.
I could write about how blessed the three of us are with old and new friends, wonderful extended family and the folks who read this blog and contribute to our learning and healing.
But while I'm sitting here waiting for Will to serve me a second pancake, smothered in butter and a splash of real maple syrup, I have to say that I'm wondering if there's anything to this Rapture/End-Of-Our-Days stuff, that is supposed to happen tomorrow.
I can't get beyond thinking….
Holy Shit!  If this Rapture stuff is true, I won't have to spend the whole next year agonizing about turning 50!
Woot!
Tags: all about me, child of narcissist, humor, narcissism, narcissist behavior, narcissistic behavior, NPD, survive