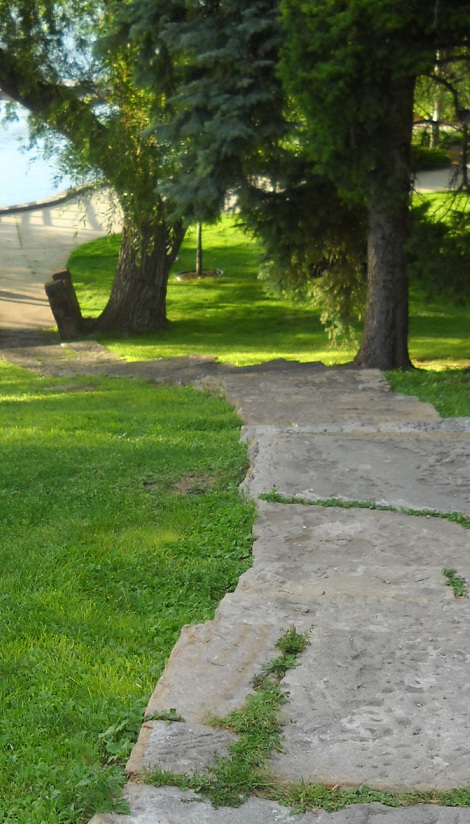 She never could get up on water skis.  Oh sure, she tried.
Her dad was actually quite patient with her.  She can remember the summer he drug her around the lake.  He was steering the boat, looking back at her expectantly, motioning with his hands to "just pop up on those skis!"
She swallowed a lot of water.  She kept getting in the lake and trying.
She just couldn't do it.
Maybe she didn't really want to water ski.  Everybody else said they loved water skiing.  She should probably love water skiing, too.  That's what everybody did in the summer.
Only she didn't really like water.  She didn't really like the noise.  She sure as hell didn't want to be flying around the lake in a bathing suit.
How is that anyone's idea of fun?
But for some strange reason, she couldn't let go of the rope.  In her mind, letting go proved she couldn't do it.  Letting go proved she wasn't any fun.
Letting go meant she wasn't cool.
Letting go of the rope meant she wasn't like everyone else.
So she hung on to the rope while she swallowed gallons of lake water and tried to keep her swim suit bottoms from being pulled off by the force of the water.
This wasn't fun, by any definition of the word.
__________
That's how this summer was starting to feel – a lot like being drug around the lake and forgetting to let go of the rope.  She struggled to keep her head above water and catch her breath.
This summer it was about unexpected visitors and family drama and too many kid sleepovers and lots of invitations for barbecues and get-togethers and lunch dates and camping trips and days spent chasing kids at the park.
Because she didn't believe in saying a polite, "No," to family and friends, she said, "Yes," to everything.  She frantically scribbled times on the calendar.  She erased and moved and rescheduled.  She panicked at the thought that summer was hurrying by and she might not be able to pack in all the fun activities.
She noticed that she wasn't saying, "Yes," with a happy, generous heart.  She became frustrated with herself, with the kids, and with all those wonderful folks who insisted on including her in all their fun.
Then one morning she found herself barking at the kids while praying for the arrival of fall and the end to the Summer of Chaos.  She heard herself say…
I will not pencil in one more thing!
The kids looked at her, shrugged their shoulders and said, "Who said we had to do all this stuff?  How come you keep saying, 'Yes!' to everything?"
She sat down, for the first time since May and said, "I dunno.  I thought we were packing in some fun.  I thought we were supposed to go along for the ride.  I thought I was making the summer fun for all of us.  I thought you guys wanted to do this stuff.  I didn't stop to think if I wanted to do this stuff.  It's what everyone does.  They go and go and go until the leaves start to turn and football season starts."
After a sip of cold coffee she hadn't had time to sip when it was hot, she said, "Isn't that what we want to do, too?"
And then she heard a chorus of, "NO!  We want to draw and skate and run through the sprinkler and eat PBJs on the back patio and sleep late and have you read us a Merlin story and eat popsicles until our tongues turn blue and watch you sit on the front step with a cup of coffee and not worry about the calendar."
So she let go of the rope.
Tags: humor, in search of self, life, love, Parenting, proactive, survive