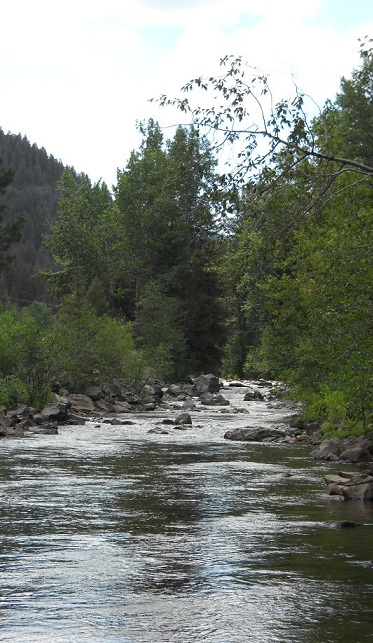 There is an undercurrent of truth seekers in the river of life.
They are everywhere.
Some carry backpacks full of self-help books.  Some can be seen taking a Myers-Briggs Test at the corner table in Starbucks.  Some fill yoga classes.  Some do Tai Chi on a sunny afternoon at the park, and they don't care who might be watching.
Some might meditate.
Some might write in a dog-eared journal.
Some sip wine and ask questions late into the night.
Some reach out on Twitter, when they remember to.
If I listen closely, I can hear their collective thoughts.
"See me."
"Please see me."
They duck their heads and keep reading or learning or exploring or trying – hoping they will happen upon the magic formula for being seen.
They float along this undercurrent mostly content to be learning.  They are consumed by the process of discovery.
They float on homemade rafts made of books and ideals.
I can see them waving to each other and pointing out interesting passages in new books.
They nod in agreement.
They offer each other support.
Once in awhile, one will hop on another's raft.  They'll float along together for awhile and learn from each other.  At some point, the raft gets crowded with too many books and too many mismatched ideals.  One person might be interested in the books while the other float mate is interested in something else.  One will make the choice to float alone again.
__________
There is an adjacent current in the river.
This current is populated by loud, well-groomed narcissists wearing brightly colored clothes packing nothing but mirrors, piloting brand new high-performance speedboats.
They ride alone.
They zoom right by the current of truth seekers and barely take notice.
The truth seekers can be seen waving enthusiastically at those in the other current.  With innocent grins on their faces, they yell, "Hellooooo!  Can you see me?"  The narcissists can't hear them, and they certainly can't see them.
 __________
From the shore of the river, bright heads can be seen rising to the surface to enjoy the sun.  When they come up for air, it's because they are making progress.  They are getting closer to finding that magic formula for being seen.
They take some deep breaths of fresh air.  They put on a little sunscreen and enjoy the sun and the view.
They know, however, that they haven't arrived.
Not yet, anyway.
At some point, they'll take a deep breath and head back down to the undercurrent to learn more about who they are, why they are, and how they tick.
And each time they swim below, they get closer to seeing their true self.
The closer they get to seeing who they are, the less they feel the need to be seen by others.
Is it because once they see, then others can?
__________
No one has ever spotted a narcissist's head rising to the surface.
Tags: cuz I am Woman, divorce, in search of self, life, love, marriage, narcissism, narcissist behavior, narcissistic behavior, NPD, proactive, survive