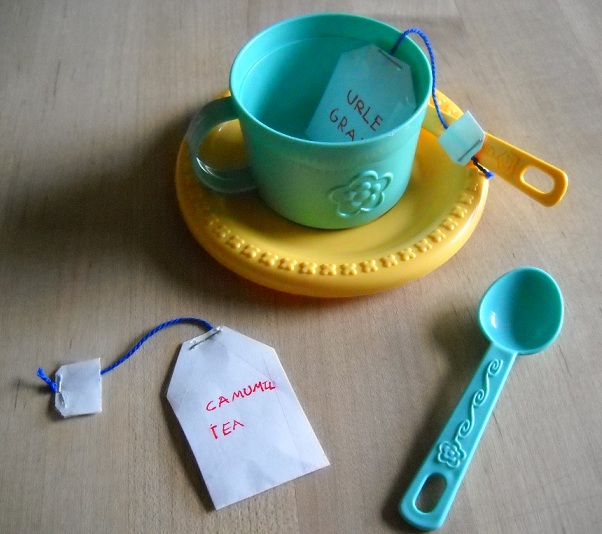 When I brew a cup of tea, Jenny runs over to stand next to my cup.  Her turned-up nose hovers over the steam as she inhales deeply.  She loves the smell of tea but isn't fond of the taste.  She often asks if she can dunk my tea bag while she watches the hot water take on the soft yellow of Chamomile.  She likes knowing the color comes from flower petals.
I think she's drawn to the ritual of the process.  She's fascinated by the little envelopes that hold the dried leaves.  She likes the names of tea:  English Breakfast, Orange Pekoe, Honey Bush, Peppermint and Lemon Zinger.
And so she spent the better part of a sunny afternoon, sitting out on the patio with paper, embroidery floss, staples, tape and markers to make her own tea bags.  Her tea bags contained imaginary dried petals and herbs.
Will and I marveled at how much they looked like real tea bags.  Maybe these were tea bags for baby dolls.  They might be used for a party with imaginary friends.
Jenny served us up some "steaming hot tea" in pastel-colored cups with mismatched saucers.  Will asked for Peppermint.  I chose Earl Grey.
As we sipped, we noticed how much nicer it was to focus on Jenny's homemade tea bags rather than the fact that their dad – who takes no interest in their schooling – had asked to borrow a book to read to elementary school kids across town.
Even imaginary tea from homemade tea bags soothes hurts, if you let it.
Tags: child of narcissist, narcissism, narcissist behavior, narcissistic behavior, NPD, Parenting, survive