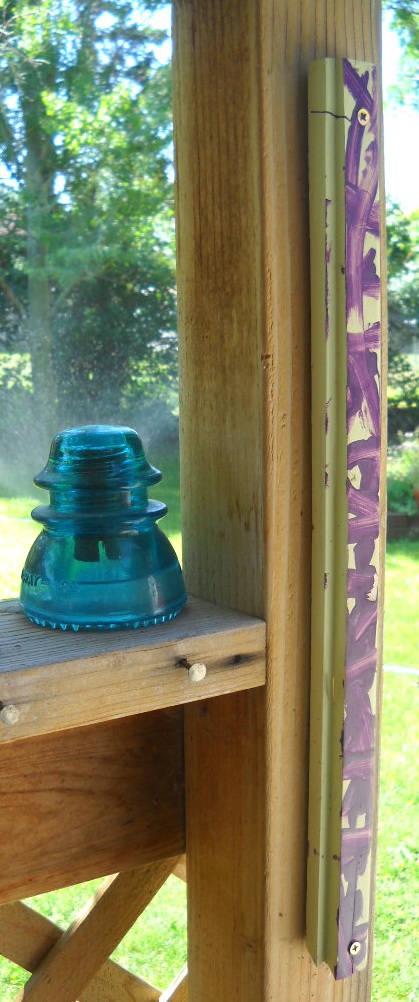 "Don't give me that condescending load of crap."
That was his response when I asked if he would please feed Will dinner instead of a milkshake on their outdoor adventure days.
He said, "He told me he wasn't hungry when I asked if he'd rather have dinner or a milkshake."
What kid wouldn't choose a milkshake over dinner?
I couldn't leave it alone.
I've been told that I shouldn't bite.
I've been counseled to not engage in such conversations.
It's been suggested that I should calmly restate my objective in a firm, clear voice.
I'm trying.
I said, "It's up to you to be the parent and feed him dinner even if he'd rather have a milkshake."
"He said he wasn't hungry."
In an effort to steer the conversation back to the main objective, I asked if he'd received the email about our new plans for visits.  He hadn't.  When I explained, he informed me that he didn't like our new plan.  (I'm sure he didn't like the new plan – that isn't much different from the old plan – because he wasn't the one to devise this new plan.)
I stated, again, the plan that would work best for the kids.  I may have gone too far when I said, "These visits aren't about you, they are about the kids."
He laughed and said, "Of course these visits are about me.  These visits are about the kids spending time with me!"
When the conversation went from bad to worse, I yelled.
What one of us, when raising a six year old, doesn't have cause to yell, at some point?  There are times when that is the only way to get their attention.
I'm not proud of myself.
I'm here to tell you that it is not possible to speak calmly and rationally with one who is not calm or rational.
That's what email is for.
I loudly stated what our new plan was and informed him that this new plan was better than not seeing the kids at all.
He said he needed to think about this new plan.
I said we would schedule our week around this plan to give him time to process, because  I am not unreasonable.
Then, I asked him to leave.  And when he wouldn't budge, I yelled at him to leave.
He stormed out.
I went inside to cool off.
Will told me he was hungry, so while making sandwiches for an almost 14 year old who typically consumes the caloric intake of two adults, I received a text from Mark.
He agreed to our new plan.
Go figure.
I could speculate as to why he agreed, but we all know how unpredictable narcissists can be.
It's optimistic to think we've won this one.
__________
I took 20 minutes to vent, looked for and found support online (Thank you, NM) and took the kids outside for some summer evening playing in the street. (We can do that where we live.)
We laughed.
We played.
I periodically beat myself up for yelling.  I told them I wasn't proud of how I handled myself.  I told them that I would try harder next time.
We laughed some more and made plans for the following day and changed the subject.
__________
This morning as I was taking a walk before the heat settles in to our little area of the Rockies, I had another revelation in the form of a nod from the Universe.
This is what I heard…
"You've been taking that newly formed backbone for granted, Honey.  Did you really think you wouldn't be faced with occasional tests to prove just how strong you've become?
You mustn't get complacent.
You mustn't assume the battle is won.
Don't think that because you've developed a backbone, you don't have to stay on your toes.
You won't pass every test with flying colors.  No one does.
Then I could see clearly.  I'd forgotten what it feels like to not cave to him.  I'd forgotten that my heart races when I stick up for myself.
My natural inclination is to settle, accommodate and do what it takes for all of us to get along – even if that means I'm the one to make sacrifices.
So when I refused to sacrifice – and my heart raced, and I briefly wondered about buying a new deodorant – I felt like I was doing something wrong.
Only I wasn't doing something wrong!
I was sticking up for my kids.
That is doing the right thing, even if it feels foreign and scary and threatening.
As I walked the hill in the heat, I reminded myself that I am strong.
I can do this.
Perhaps I can do this a bit better.
I do believe that as long as I keep forging ahead, doing what is best for Will and Jenny, the Universe will continue to be on our side.
Tags: child of narcissist, divorce, narcissism, narcissist behavior, narcissistic behavior, NPD, Parenting, survive