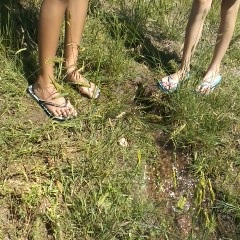 "There might be mermaids!  Could there be?  Why not?"
They'd been hiking around the park, hunting for grasshoppers.  They kept hearing a whooshing sound.  They gave up the hunt to follow the sound and discovered a mini waterfall spilling from the side of the hill.
They ran back down the hill to get me.  "Mom!  You've gotta see what we discovered!  Come on!"
As we hiked the hill, I noticed the expanse of greener grass that had been watered by the spill.  It spread down the hill like a lush blanket.
When we arrived at the point of discovery*, their imaginations took flight.
"Well there could be mermaids down there.  The water is cool and clear.  They like that kind of water."
"Let's call grandpa!  He's gotta see this!"
"There is so much water every where!   Can this be our discovery?"
They were excited and pleased with what they hoped they were the first to see.  They imagined all possible and impossible explanations.
We stood in the sun and watched the park drink up the sparkling pools of water.
For 60 minutes, I forgot about laundry, dirty dishes, weeds in the garden and to-do lists.  For one whole lovely hour I was a kid who believed in the unbelievable.
There could be mermaids or pots of gold under rainbows or unicorns or charming princes.
There could be _________________________.
You fill in the blank with whatever it is that makes your day brighter – even if for only a minute.
*It turns out the source was a broken irrigation line, but it was fun imagining until reality set in.
Postcards From a Thriver is a new category on the blog.
Look for bright spots and examples of a thriving life.
Tags: a girl can dream, encouragement, friendship, life, thriving