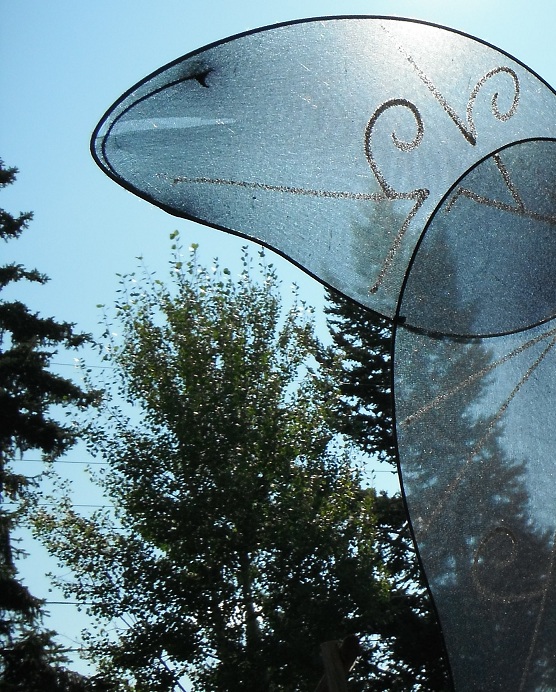 She was born with wings – just like everyone else in the forest.  Like theirs, her new wings were tender, fragile and craving the warmth of the sun.
In those first few years, she'd been fortunate enough to dance in the sun on the light side of the forest.  She didn't spend a lot of time on the light side, but when she was there, she felt her wings stretch and reach and show their splendor.  She would crave that joyful feeling her whole life.
Most days she could be found tiptoeing under mushrooms on the dark side of the forest.  She kept her wings folded close to her back.  When her wings were tucked in, she felt protected and safe from harm.
When she wasn't exploring under mushrooms, collecting rocks or planting seeds, she would venture out to see what she could see.  There she would find others – some with wings tucked in, and others with their wings spread.  Those with spread wings moved about talking of the shapes of mushrooms or the colors of moss or the mess of pine needles covering the forest floor.
Those with spread wings rarely noticed her unless they needed something from her.  When they needed something, they talked to her in flowery words.  They told her how gorgeous her wings were or how she kept her nook so cozy and tidy.  With this new praise and attention, she'd feel her wings stretch.  This felt good.  This felt familiar.  She wanted to say, "That feels good!  I want more."
With this new confidence, she'd begin to think that it might be possible to live on the shady side of the forest and keep her wings spread.
About the time she'd dare to walk with her wings outstretched, a dark sider with spread wings would tell her that her wings weren't good enough.  A different dark sider would laugh at the color of her wings.  Another dark sider would say, "We don't need your wings here."
She soon learned that whatever she gave – seeds or rocks or help cataloging mushrooms – was never good enough.
Then she would tuck her wings in and run for her nook.  On her way to her nook, she'd notice other dark siders with tucked wings hiding under mushrooms.  She wondered if they had trouble spreading their wings, too.
When she reached the safety of her nook, she would stay to plant seeds, rearrange her rock collection and catalog  mushrooms until she felt her strength return.
One day she spied a rock across the path, on the sunny side of the forest.  This was a rock she'd never seen before.  With her head down and wings safely tucked, she dashed to the light side to get a closer look at the rock.
While bent over this new rock, the sun warmed her wings.  Without realizing it, her wings spread and spread until they were sparkling in the sunlight.
A light sider happened to walk by.  He stopped and said, "Are you new here?"
Just then, she noticed her wings were spread, and because she was afraid that she would be ridiculed for her wings, she kept her head down and replied, "Yes.  I'm sorry.  I just came to see this rock."
The light sider laughed and said, "Why are you sorry?  Those rocks are for all to enjoy.  Certainly you are entitled to enjoy them, too!"
She looked into the eyes of the light sider and said, "Thank you."
And she waited….
She waited for his kindness to turn sour.  She waited for what always happened next – a criticism, or a derogatory comment about her wings.
But he said, "Nice wings," as he walked away to greet another light sider.
Confused, she stood there holding this new rock with her wings outstretched.  She looked at the sun.  She looked at the light siders.  They all had fine wings.  No wings were finer than any other pair of wings.  They were all very good, very fine wings.
And she smiled as she realized this was where she belonged.
She spent the rest of her life planting seeds, collecting rocks and smelling flowers on the light side of the forest.
She no longer cataloged mushrooms.
Occasionally she'd see a dark sider with tucked wings on the other side of the forest path.  When she could get her attention, she'd yell, "Hey, it's nice over here.  Don't wait for an invitation.  You don't need one.  You can come over any time and spread your wings!"
Tags: a girl can dream, child of narcissist, encouragement, in search of self, life