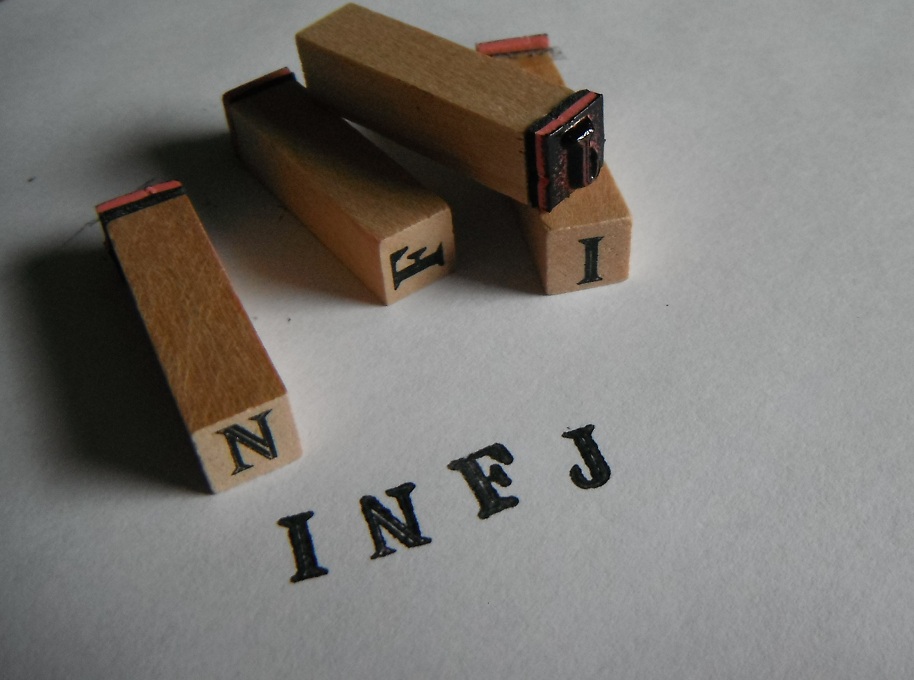 "I've been doing this a few years.  I think you're the first INFJ result I've seen.  Of course, most INFJs don't take Business Management.  Why are you in this curriculum?"
"Those career tests from high school indicated my aptitude was in clerical and organization, so I figured this was the curriculum for me."
"Have you ever considered psychology or sociology or a degree in the creative arts?"
"They say there isn't any money in that."
"That may be true, but will you be happy with a degree in Business Management?"
"I guess I didn't think about whether I'd be happy or not.  I thought this was what I was supposed to do."
 She filed the personality test in a red subject folder where it stayed in a box of college papers, next to the history paper with the 'A' and the instructor's scribbled comment, "You have a good mind, try sharing it with the rest of the class."  She'd also kept the aced Earth Sciences exam that proved she could memorize and regurgitate and retain absolutely nothing if it didn't interest her.  Mostly, she kept the tests and papers from the Interpersonal Communications class, but she wasn't sure why.
Not long after, she quit college in the middle of an I&ME class, in her junior year.  The frustration and boredom had gotten the best of her.
Two years later she went back to finish her degree in management (even though she hated the curriculum) because not finishing wasn't an option.  "Everyone finishes college."  "You need a degree in this world."  "There's no money without that diploma."
 __________
A few years went by filled with boring clerical jobs, and monthly checks written to pay off school loans for a degree that she didn't identify with.
At one point, she gave up on jobs having to do with business to pursue jobs she enjoyed – jobs full of creativity, working with her hands, and NOT sitting at a desk.  When others asked, she'd make excuses for her jobs.  They'd say, "How is that using your degree?"  She was embarrassed that the pay was so little in these jobs, but for the first time, she looked forward to going to work.
Several jobs, a marriage, kids and a divorce later she re-discovered the MBTI on the internet.  She took the test again.  She had a vague recollection that she'd tested the same in college.  She dug out the red folder and rifled through the papers.  There it was.  The results hadn't changed.  The INFJ description was the key to explaining so many difficulties – difficulties that didn't need to be had she embraced the test results while she was still in college.
So many pieces fell into place:
A preference – as a child – for playing alone in her bedroom, and wondering if there was something wrong with her for liking to play by herself.
Staring at the pink phone – a dream birthday present for most any other 12 year old girl – and praying it would never ring.
Having that boy in 7th grade call, only to lay on the bed, count the cracks in the ceiling and wonder why everybody thought it was fun to talk breathe on the phone.
Wondering if there was something wrong with her because she didn't like talking on the phone.
Getting lost in books and wondering why books far surpassed anything in real life.
Preferring conversations with adults to hanging out with kids her age.
Never fitting into a particular group, and not caring whether she did or not.  Identifying with the hoods and the jocks, but not wanting to align with one group, instead choosing to float between groups.  Joining a sorority because "everybody goes through Rush their freshman year," and dropping a year later when she realized that she preferred the company of one good friend to hanging with a gang.
Going to bars on Friday and Saturday nights because "that's what everybody does on the weekends."   Watching the clock and waiting to go home to coffee and a good book.
Assuming her need to connect and inability to do so in a relationship proved that there was something wrong with her.  Others made relationships look natural, why wasn't it natural for her?
Being told she was intense, or mysterious, too sensitive, a mind-reader, an old soul, or just plain different.
Hearing a stranger divulge his life story after having only asked him the difference between two refrigerators.
Finding it virtually impossible to enjoy watching network TV, but getting immersed in a movie or book.  Not liking the books and movies that are popular.
Getting physically ill when having to sustain small talk for any length of time.
Not identifying with the desire for money or material possessions.  Wondering about how the Joneses think, but not caring to have their car or their house.
Realizing that there are maybe two or three people in her life that really know her.
Having to replay conversations in her head to understand nuance, read between lines, and discover hidden agendas – sometimes into the wee hours.
Realizing that she over-thinks absolutely everything – always has, always will – and understands that's why television can't possibly be of interest to her when there is so much of interest going on in her mind.
She's been around the block enough to know that the MBTI isn't the be-all-end-all, but she sees the patterns.  She understands that she spent too much time apologizing for being different.  Understanding herself better through studying personality type has made the journey less difficult.  Learning her kids' types has made her a more compassionate parent.
Now that she has come to terms with being an INFJ, she is able to be more compassionate with herself.
__________
That's why, last night, when the kids wanted to go to the neighborhood ice cream social in celebration of the new play structure, she agreed to go.  She stood in the ice cream line, smiling at folks she'd met, saying "hello" to only a handful that she'd actually conversed with.  She introduced herself to the new next-door neighbor, who'd been in the house for a month already.  She breathed a sigh of relief when, after exchanging pleasantries, she observed that the new neighbor was an introvert, too.  (That should preclude any unnecessary chatting or socializing with the neighbor to the west.  Whew!)
She and the kids stood at the edge of the gathering (where INFJs are most comfortable).  She waited for either kid to express interest in staying longer.  She asked if they'd stayed long enough.  They said, "Wow, it's crowded.  Should we go?"  She smiled and started walking in the direction of their home.
They'd made their appearance.  She'd lasted 15 minutes.
Later they would take a long walk, enjoying the warm spring evening, laughing about golf, fairy gardens and cats who act like dogs.
She arrived home to make an excellent cup of decaf and finish a decent book.
She DID NOT lay awake into the wee hours wondering if she should have stayed longer at the ice cream social.  She did not regret any words said, or attempt to read between any lines.
She DID think to herself, "Geez, it would have been nice to have come to terms with all this INFJ business a long time ago."
Tags: gentle reminders, in search of self, infj, thriving