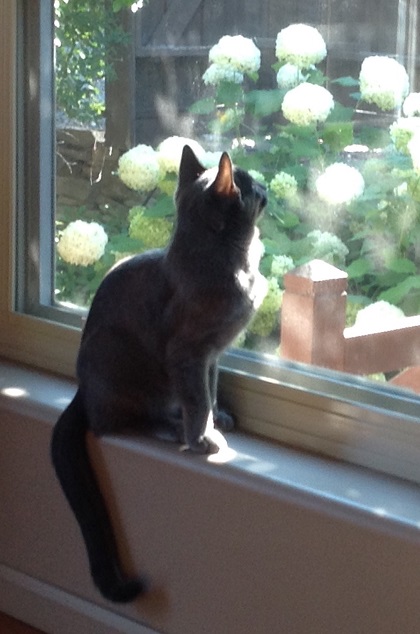 She was sitting in the window and I thought, "See that? That looks like one of those photos on Pinterest."  You've seen them.  They're all over the internet.  Those pics seem to promise a serene life with steaming cups of tea, stacks of good books, four uninterrupted hours of alone time, and a guarantee of enlightenment through stolen moments of self care.
At least that's what I think they promise.
I assume the people who take those kinds of pictures have all the time in the world to scout around and look for the perfect photo opportunities.  They don't have to waste precious minutes picking up after their messes.
The Quintessential Pinterest Pinner doesn't have to file a change of address form for the second time in a year, or sift through her storage unit looking for ice skates or home school supplies or a box of embroidery floss.
She doesn't have to dread going out in public to face the inevitable question:  "Hey?  I thought you guys moved?"
When she isn't taking pictures of her new Golden Retriever puppy curled up on a cream colored, chunky crocheted blanket, she's artfully coordinating the perfect pair of ripped jeans with the just right, too baggy sweater, for fall.
As much as I envy her Pinterest-perfect life, I want to smack her.
But then the minuscule corner of my brain that manages to think logically says, "Knock it off.  Her life is probably a mess, too.  It just looks good on the outside.  And anyway, it's all the messiness of a life that makes the cat with the hydrangeas so pretty."