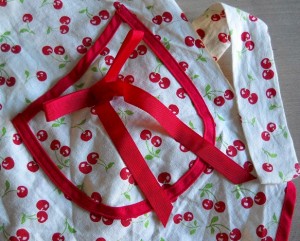 At 2:00 a.m., those voices in my head can be pretty loud.
I don't know who let the battle ax into my bedroom.  She was holding  a cast iron skillet.  I don't know if the skillet is her trademark, or if she was planning on hitting me with it.  Her hair held spongy pink rollers.  Over her mom-jeans, she wore a food-stained apron in a cherry print that barely stretched over her ample hips.
I'm sure her middle name is Guilt.  Her last name is Doubt.  First name is Jesse.
She barked at me for taking my kids out of public school.  She lectured me for wanting so damn much out of a relationship.  She snarled at me about my choices and the direction I'm heading.
With one hand on her hip, she started her relentless pestering.  "Everyone else seems content to be in a so-so relationship.  Why do you think you deserve to be any happier than anyone else?  Hello, Missy, this is happy.  Look around you.  Everyone is coupled up, and they go about their business just fine.  How much time do they spend worrying about being happy?"
She (my self-doubt) continued to spew these pearls:
You'd be in a relationship if you'd quit worrying about being happy in a relationship.
Your kids would be better served by struggling to fit in where all the kids struggle every day to see where they fit.
Nobody said this was supposed to be easy.
Get in line and make the same choices that everyone else makes.
Quit your bitching and get back to work.
Did you really think making choices contrary to the mainstream wouldn't be lonely?
How much support do you think your going to get, if it looks like your choices mock the choices of others?
If you are looking for support,

get back in the herd

.
Who invited her into my bedroom?
I felt my chest tighten.  I struggled to take a deep breath.  In the dark, it started to feel like she was sitting on my chest.  Her pestering and badgering sucked the air out of my lungs.  The lack of oxygen made my brain fuzzy and I started to panic.  I lost my bearings.  The bossy voices seemed real.
I tried to defend myself with wimpy statements like, "I deserve to be happy, and I'm willing to work at a relationship.  Doesn't that account for something?  We don't see that the pros of public school outweigh the cons, ma'am.  My kids are happier and thriving now."
She had the nerve to yell at me, "Happy, Shmappy.  No one told you to expect to be happy.  Get over yourself."
I didn't sleep well, while defending myself against the attacks of the battle ax swinging the heavy black skillet.
__________
Over the first cup of coffee, I was able to laugh at how real the lack of air seemed.  I could see the battle ax for who she was – the embodiment of all my doubts, concerns, and questions.  She was a representation of all my fears – bad hair and all – wrapped in an apron.
She was mad at herself and she was taking it out on me.
I started to feel sorry for her, but thought better of it.  I could have offered to wash her apron.  I could have volunteered to help untangle the spongy rollers from her thinning hair.  But, feeling sorry for her would be an invitation for her to stick around longer.
With my head cleared, I realized the pressure on my chest is my reaction to "getting in line" and making established choices that lead to a marginally fulfilled life.
No thanks.  I'm aiming higher.
That's how I know I'm heading in the right direction – I breathe easier.
The prospect of making different choices, or settling, or following the herd sucks the air out of my lungs.
I take a compass reading and see that the direction we are heading is right for us.  That knowledge helps me breathe easier.
It's a matter of silencing the self-doubt and guilt.  I can acknowledge the battle ax, but I'm not asking her to stay.
I could take her, if only I could get her to put down the skillet.
Tags: divorce, humor, life, marriage, Parenting, proactive, school