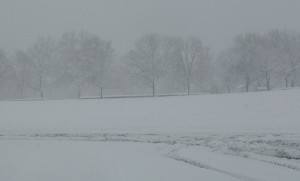 A semi hauling gasoline was in front, another semi was behind, and we were crawling along a snow-packed two-lane road under heavy cloud cover and falling snow.
My hands were at 10 o'clock and 2 o'clock on the steering wheel.  The tunes weren't blaring like they are when the roads are dry.
"Will, honey, I can't talk right now.  I need to concentrate on these roads."
The snow kept falling.
The skies stayed gray.
My shoulders were tight.
My knuckles were white.
__________
Few things are more exciting for a skiing 13 year old boy than waking to two feet of fresh snow.  All the pizzas, Mountain Dews and skateboarding videos in the world can't compete with fresh powder and untracked runs.
Will was texting his dad by 7 a.m.  "Please dad!  We have to go!  They got two feet over night and four feet since Sunday!  Dad, we've been waiting for a powder day.  You have to go today.  Can you get away?"
When Mark got around to returning the text, the answer was, "Sorry, Bud, I've got a lot going on at work today.  There's no way I can get out of town."
Will was bummed.
I was bummed, too.  Mark steals away in the middle of the week, every week, to ski.  Selfishly, I was hoping Mark would take Will so I could avoid the scary roads.
Will and I talked of how the snow would still be there this weekend.  He stared at the ski hill's website, adding up projected snowfall for the next couple of days.  He talked of powder pillows and cold smoke and drifts up to his arm pits.
While Jenny and I enjoy skiing, we don't crave it the way Will does.  Hell, I can't even adequately ski in two feet of fresh stuff.  But we have an unconventional life style.  We can juggle learning around our passions.  We can take off in the middle of the week and make memories.
So when Jen came out of her bedroom rubbing the sleep from her eyes, I said, "Good morning, Honey.  You got to sleep in today.  That's a good thing because we are going to be in the car in 45 minutes to head to the ski hill."
She didn't groan.  She didn't complain.  She knows that what we do to make Will happy will be matched with something to make her happy.
I looked over at Will to see him wiping happy tears from his big brown eyes.
__________
With white knuckles on the steering wheel and total silence in the car, I got to thinking about exposure, risk and fear of the unknown.
I've lived in these parts all my life.  I know what to expect from wintry roads.  I know not to be cavalier about driving with my babies in the car in the winter months.  And yet, I still get freaked by driving on snow-covered roads.
Yesterday, sandwiched between two trucks, stomach clenched, hands sweating, I was forced to focus and overcome my fear.  With each snowy mile and icy curve, I got more confident.  I became acclimated to the conditions and reached a level of comfort that made the trip less scary.  An hour into the drive, even though the roads hadn't improved, we had the radio on; we were talking of how fortunate we are to live the kind of life where we can ski in the middle of the week; and I didn't have to ask Will to quit talking.
That's how it is with all kinds of fear, whether it's the fear of leaving a marriage, raising kids alone, making the choice to homeschool or starting a new job.  Once the choice is made, it's a matter of putting my head down, focusing my energies and dealing with each mile as it comes.
Slowly the unknown becomes familiar.
The fear dissipates and confidence builds.
The white knuckle part doesn't last forever.
Funny side note:  As we were riding the chair lift, marveling at all the new fluff, talking of which run to get buried in next, we saw Mark ski under the chair. 
Tags: in search of self, love, Parenting, proactive, survive