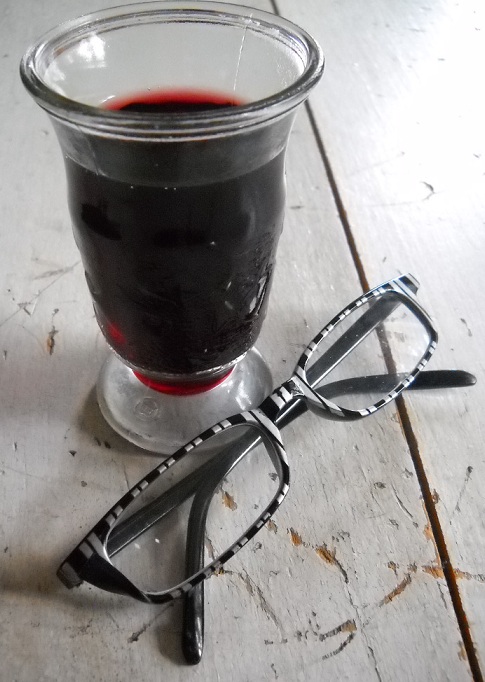 My breathing is loud.  I can hear my heart pounding in my ears.  I can't remember if this is the sixth or seventh lap.
Does it even matter how many times I climb this hill, just as long as I get out here and move?
I get to the top and survey the river.  Through the pounding I hear my thoughts:
You are reaching for the

cheaters

more than you used to.
Maybe it's age that keeps you from remembering how many times you've walked up the hill.
Remember when your ass was below your waist and not behind your knees?
You ought to have given more thought to what it would be like to physically keep up with two young kids at the age of 50.
When did you get to the age where  Mom Jeans are comfortable?
Isn't it time to  consider coloring your hair?
I head down the hill and wonder if this upcoming birthday could quietly sneak away in the night without anyone in my family doing anything about it.  Through huffs and puffs, I laugh at myself because I know it's not so much about the day, as it is about my perceptions of what it's like to be turning 50.
__________
I remember a road trip with grandma and grandpa when I was five.  I can see her wearing a cotton dress, knee high nylons and practical looking orthopedic shoes.  Her hair was always curled and dyed and styled the same exact way.  I can see her gracefully holding a cigarette to her lips between two perfectly painted nails, while squinting one eye when she took a drag.  The creases around her lips and eyes told the tale of years of smoking.
She was 47, and I thought she looked ancient.
She'd no sooner sit on the floor to play dominos than make the radical decision to quit  coloring her hair.  I can't imagine she'd ever put an album of Perry Como on the stereo and dance around the dusty rose colored naugahyde couch the way we danced to Darius Rucker around the purple dining room table yesterday.
She'd be confused by our purple dining room table.
She'd be amazed that I still wear jeans and that I have yet to color my hair, or figure out how to properly pluck my eyebrows or that I seldom wear makeup.
I marvel at what 50 looked like 40 years ago.  I'd swear that was a different planet where everyone smoked, dyed their hair every six weeks, watched Mutual of Omaha's Wild Kingdom, quietly tended roses, dusted the furniture every Saturday and cooked Jimmy Dean Sausage and eggs at the same time each morning for the man of the house.
__________
Then there are the quotes about age:
Middle age is when your age starts to show around your middle. 
~Bob Hope
Age is a question of mind over matter.  If you don't mind, it doesn't matter. 
How old would you be if you didn't know how old you were? 
~

Satchel Paige
Old age isn't so bad when you consider the alternative. 
~Maurice Chevalier
I still have a full deck; I just shuffle slower now. 
~Author Unknown
It's sad to grow old, but nice to ripen. 
~Brigitte Bardot
I like Brigitte's take on things, Bob's …   not so much.
__________
I think about my mom and what she was like at 50.  I can only hope to have that much fun.  Of course, her kids were already out of the nest.  There's something to be said for starting sooner, but I'm not sure I would have had the patience that I do now.  Besides, my young roommates keep me active, challenged, interested and learning.
They prevent me from taking root on the couch.
But what must it be like to be a mom who has a child turning 50?
Ouch.
__________
I climb the hill again, breathing harder and louder than I care to.  Was that the seventh or eighth time now?   I check the view, marvel at the lack of wind and make an uncharacteristically non-INFJ choice to stop and see the neighbors before heading home to tackle more chores.
Life is short.  The dishes can wait.  There's always laundry to fold.  There ought to be more chatting with friends and less fretting over to-do lists.
I arrive just as she's rolling enchiladas.  Her husband hands me a dark beer to sip while I watch the show.
She's layering shredded cooked chicken breast, fresh baby spinach leaves, salsa, green chiles, grated cheddar and onions on flour tortillas.  She's the kind of cook who makes a Pyrex pan of enchiladas look like an effortless work of art.
She says, "Hon, hand me a spoon, would ya?  They're in the drawer behind you."
I hand her a spoon, and take a sip of beer as she says, "You know, I wonder when I'll ever get my 80 year old body to realize that it's never gonna catch up to my 50 year old brain."
Tags: a girl can dream, cuz I am Woman, gratitude, humor, in search of self, Parenting, survive