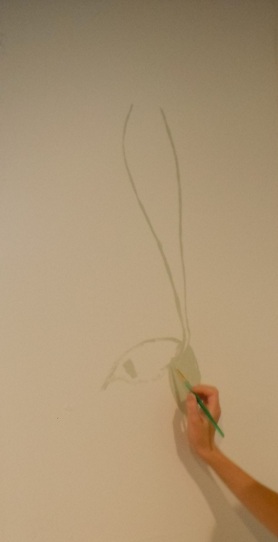 "Whoa cowboy!  Slow down a bit.  You're getting the green on the ceiling."
"Oh, sorry about that.  This rolling is fun.  Look how much you can get on the roller before you put it on the wall."  Will dunks the roller and I wince as he takes the roller from the tray to the wall.
"Yeah, it's cool.  If you go too fast, tho', it'll splatter all over the kitchen."  I stand at the ready with paper towels.
"K.  But maybe if I do it thick enough, it'll only take one* coat.  Sorry about the ceiling."
"That's okay.  It's fixable, but we don't wanna have to repaint the whole ceiling.  Maybe you paint like an extrovert."
"I know, right?"
Jenny walks over and asks for a little more paint.  She takes the stir stick, dips it in the sage green and lets it run onto the lid of the paint can.  "That should be enough."  She heads back to the corner of the kitchen where she creates a mermaid with steady, deliberate watercolor paintbrush strokes.
"I'm not gonna want to paint over her, Jen.  She's gorgeous."
"That's okay, mom.  I'll paint her again in my bedroom."
"Maybe you paint like an introvert."
"I know, right?"
*One coat of the sage green was enough to cover.  :)
Tags: encouragement, life, Parenting, thriving