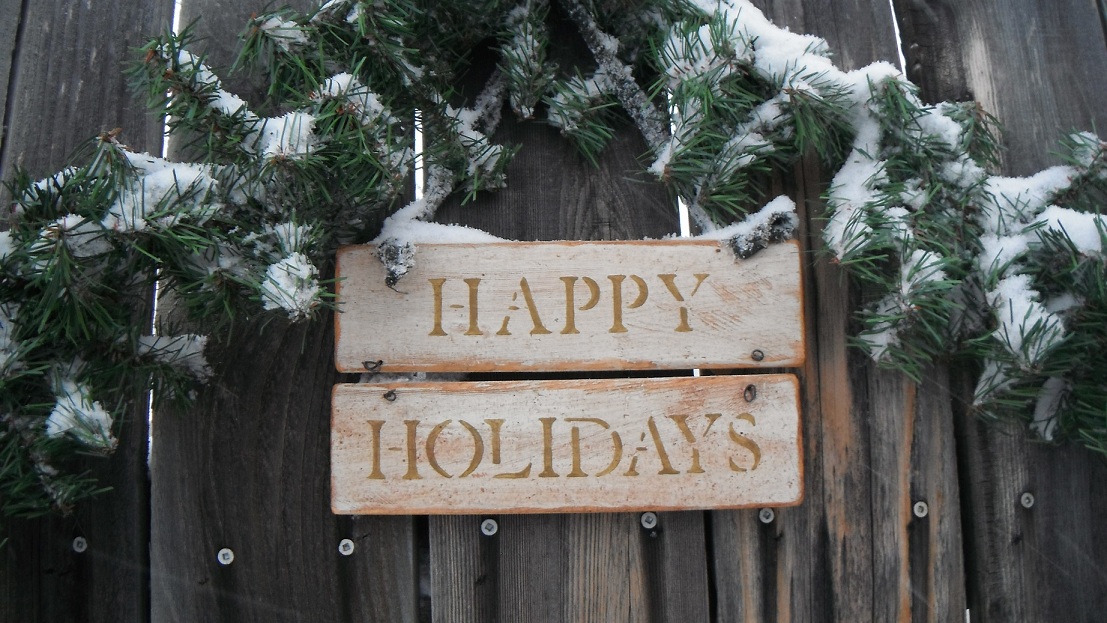 Aren't you lucky?  You have an INFJ in your life.  That means that while you'll never completely understand what makes her tick, you'll never be bored, and you'll always know that she highly values the relationship she has with you.
Let's try to make the holidays easier for you and for her.
Parties
This one is easy – invite her to parties.  Your invitation might sound like this, "Hey, I've got this party thing and I'd love for you to go, but I know you'd rather die, so I'm inviting you with the understanding that you like the invite, but you have no intention of going, and I'm cool with that."
If it's your office party, you might remind her that you have to go.  Tell her that you're going with a couple guys from work, and that it won't be nearly as fun without her.  (It's okay to lie a little here.)  Then, after you've had a few and gotten the holiday party thing out of your system, text and tell her you miss her with, "Hey, I gotta get out of here.  Do you mind if I stop by?"
If it's a family party, she'll feel obligated to go because she cares about you.  Don't make her stay long enough to learn your family's house rules for Cribbage.  Remember that she has a limited tolerance for small talk – 20 minutes max.  Don't leave her side.  Make sure her glass is full and that she has a few bites to eat to soak up the alcohol.  After she's had enough wine to be able to fluently discuss art history with your sister-in-law, it's okay to make your way to the kitchen to talk football, but do make sure you catch her eye as you head that way.  Later, let her help you with the dishes – she needs to feel like she belongs.  Be the one to suggest the time to leave, and make sure it's before your mom invites you to spend the night.
Gifts
She feels the same expectations that you do about gift-giving, only more so.   Try opening the conversation with, "Babe, I want to get you something special for Christmas, but I don't want to overdo it, and I don't want to be the schmuck who has to ask for ideas, but I need help."  Then, look around her kitchen or living room – actually take notice of the way she decorates – and suggest things.  "Would you like another one of those zebra-print pillows?  What would you think of more long stemmed glasses and an expensive Cabernet?"  She'll politely say no to both, but she'll appreciate the effort you put in to noticing the things she likes.  Then pour two glasses of wine and relax while she gets comfortable with the idea of giving you some suggestions.  Lead with a couple suggestions of what you've always wanted for Christmas.  It's okay to admit that you prefer a Pale Ale to Cabernet.  How else will she know?
If your INFJ has kids then don't be that guy who doesn't have a clue that Christmas is about kids.  It's more important to get her kids something than it is to get her something – almost.  Tell her you are wanting to do something for her kids, and ask her, "What should I get your kids for Christmas that doesn't make me look like I'm trying too hard."  You'll be blown away by the points you'll score with that one simple question.
Connecting
Whether you are in a romantic relationship with an INFJ, or you're related to one, it's good to remember that this time of year is overwhelming for everyone, but especially your INFJ.  That does not mean she doesn't like Christmas.  She likes the deeper aspects of the holiday from connecting with old friends (via cards not phone calls), to intimate meals by candlelight, foot soaks while watching – and making fun of – a sappy Christmas movie,  stringing cranberries and making hot buttered rum mix.
She'll desperately avoid the commercialism, noise and fake displays.  She'll quietly yearn for snowy walks by moonlight, homemade gifts and your offer to help her make her grandma's Povitiza recipe – even if that means you just sit at the table and sip a beer while telling her how cute she looks in an apron.
__________
INFJs look for meaning in everything.  There's plenty of meaning to be found in the weeks of December, but the meaning gets lost in the scramble to make the holiday perfect.  Avoid the media examples of a perfect holiday and steer clear of Hallmark's version of Christmas.  Go to Kay Jewelers, but only to get something for your mom (unless she's an INFJ).   Shoot for real and simple with a healthy dose of communication and your plans for a quiet New Years whispered in her ear.
Tags: a girl can dream, communication, cuz I am Woman, gentle reminders, infj