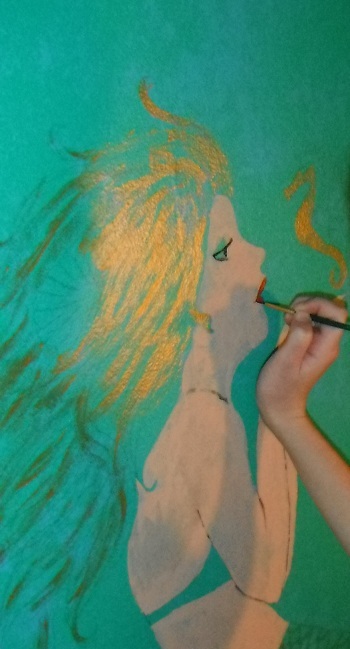 We'd gone into the lodge to make sure she wasn't getting frostbite.  She made faces at me while I rubbed her tender cheeks to get the circulation back.  "Honey, keep gently rubbing your cheeks.  The white spot will go away as you warm up."  She patted her face and said, "Remember when dad was at the house the other day and he looked at my mermaids?"
"Yeah.  That was Thursday."
"Well, I forgot to tell you what he said."
"About the mermaids?"
"No, about the mermaids, he just nodded his head and said, 'I like them.  You did a good job.'  But he said something else, too."
"What was that?  How come you didn't mention it before?"
"Well, I forgot until now.  He asked if I was still getting together with my BFF.  I told him that I still see her, but that we've both been busy with the holidays.  Then he said, 'Is she finding better friends to hang out with?'  Why would he say that?"
I shook my head.  I didn't know what to say.  I thought of all the stuff I've read about narcissists, and wondered how I could use any of it to explain to an eleven year old girl how her dad could be so insensitive and mean.  Even though we've learned so much, even though these hurts seem to not last as long or be as devastating, they still hurt.
"I don't know, Jen.  Many times, what he says doesn't make sense.  We know that he is capable of being thoughtless.  Maybe he's jealous that you are talented.  Maybe it bugs him that you have a BFF and he doesn't.  But that happened two days ago, and you just now mentioned it.  Maybe you are getting stronger.  I think you are learning to deal with his crap.  It doesn't make it better, but maybe it means you aren't getting as bruised as you used to."
She shook her head and rubbed her cheeks.
Later, I learned that she hadn't mentioned anything to Will.  Maybe she didn't need to vent as much as she used to.  That's progress, isn't it?
Then, last night, we all heard the text.*  Jen's BFF texted to see if Jen had time to get together this week.   Jen walked out to the living room to text back.  Then she asked if we had time this week.  I said, "Of course."  I heard the soft padding of Jen's feet coming down the hall.  She entered my room with tears streaming down her face.  "Why would he say that, mom?  Why would he be mean to me like that?"
"Jen, he's mean.  I don't know if he does that on purpose, but he doesn't like it when everything isn't about him.  Your artwork wasn't about him.  Your best friend isn't about him.  When it isn't about him, he lashes out and says things that hurt.  It's wrong, and I'm sorry."
She grabbed some tissues and crawled in my bed.  I put my arm around her and told her she was so blessed to have a best friend.  I told her that her best friend was blessed to have Jen for a BFF.  I listed all the bright spots that were lined up for the next couple weeks.  I cracked a couple jokes about Nina (our cat) expecting so many Christmas presents.  She wiped her nose and snuggled closer.
I said, "Do you think you're crying so hard because you were secretly wondering if your dad was right – that maybe your BFF found a new BFF – and when she texted you were so relieved, that the flood gates opened and that started the tsunami of tears?"
She laughed and said, "That's it mom.  Even though I know dad was wrong, I was worried.  It's a huge relief that she texted tonight."
*Dear Universe,

Thanks for having Jen's BFF send that text last night. 
Thanks for putting this in my Twitter stream this morning.

Thanks, too, for putting this book in front of me, when I wasn't even looking for more to read on narcissism – it explains so very much.
Tags: child of narcissist, front lines, narcissism, narcissist behavior, narcissistic behavior, NPD, Parenting